Application is Simple . . .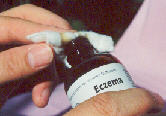 Pour a small amount of "Eczema"
on a cotton pad . . .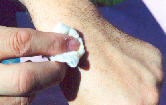 Rub over the affected area. (Product can optionally
be sprayed over an area where skin is broken and/or
discharging serous fluid). Repeat two to three times
daily or as recommended by your practitioner. Depending
on location, you may want to cover after applying
as formula has a pungent odor.