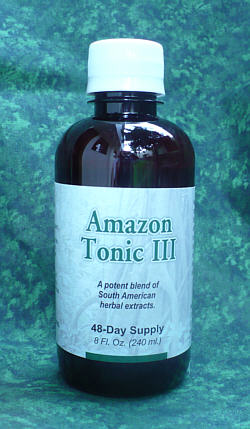 The following directions apply to this formula:

Directions (as stated on label): Take one-half teaspoon (about 2.5 ml.) twice daily, morning and evening, preferably with a small amount of juice (roughly 1/4 cup), either during or after a meal. At any point, if you get an emetic (nauseating) response, reduce subsequent dosage. For more information, read: www.altcancer.net/ct3_new.htm on our site. If you are lactating, pregnant, or have a heart condition, consult your health care practitioner prior to use.

* For U.S. Users: This statement has not been evaluated by the Food & Drug Administration. This product is not intended to diagnose, treat, cure or prevent any disease.

SHAKE WELL BEFORE USING. KEEP REFRIGERATED AFTER OPENING. IF THE PRODUCT IS LEFT OUT OR OTHERWISE DRIES UP OR THERE IS OTHERWISE AN EXCESSIVE AMOUNT OF PRECIPITATE LEFT IN THE BOTTLE, USER MAY ELECT TO ADD A TEASPOON OF PURIFIED WATER TO IMPROVE CONSISTENCY FOR THE PURPOSES OF EASIER ADMINISTRATION.



The
New Cansema Tonic III
48-Day Supply
(when used according to directions)
8 fl. oz. (236 ml.) - Code 803 - $59.95

Order This Product Now

Read about this product in the FAQ Section
(look under "Cansema & Escharotics")


Cansema has been the calling card of Alpha Omega Labs since 1994. Its internal versions, Cansema Capsules and Cansema Tonic, caused hundreds of users to report back favorably on the cancerolytic (i.e. cancer-killing) effects of the product. Still, it was apparent to us, that for more difficult cases, an enhanced version was required.


The new Cansema Tonic III is this improved version.



Ingredients: Fresh, organically grown aloe vera, zinc chloride, South American chapparal (Larrea divaricata), graviola extract (Annona muricata), oleander extract (Nerium oleander), pure grain alcohol. [Note: the oleander extract in this formula represents the inclusion of anvirzel -- a potent anti-cancer agent. The product contains no unprocessed oleander.]





Side Effects: Product should be added to a small glass of water or juice and taken with meals, as the most common side effect is nausea. A small percentage of users can experience skin rash, as well. These effects can be readily eliminated by reducing dosage on subsequent usage.


Some users (usually those with more serious conditions) will experience Jarisch-Herxheimer reaction in the first few days or week or taking the product. This is the body's natural response to endotoxins that are released with the die-off of a substantial number of cancer cells. Symptoms can include nausea, fatigue, fever, chills, headache, hypotension, vasodilation with flushing, hyperventilation, and itchiness. However, the severity of any of these symptoms is rarely comparable to the intensity experienced in connection with antibiotic use and a mass systemic bacterial die-off. The experience normally passes within a few days.


Additional Instructions: Most users will experience warming, tingling and/or "pulling" sensations in the area of a localized tumor, internally, within three to four days of initiating use. If not, users may choose to graduate to a higher dosage (1 tsp. -- 5 ml. -- 3X/day). Any dosage higher than 15 ml. per day, please consult with your health care practitioner, or write to us at support@herbhealers.com.


We also recommend that you keep a journal or diary while taking Tonic III, being careful to note any unusual sensations you experience while taking the product. These sensations are meaningful when communicating with us about your case.

---
Additional User Comments:
See our Pictorial and Testimonial Section for customer testimonials on this and other Cansema®-related products.