Our version of
Anti-Plague
is very close to the original formula, save for the addition of
olive leaf extract
.
Ingredients:
Fresh garlic juice, wormwood, lobelia, marshmellow root, white oak bark, black walnut leaves, mullein leaves, scullcap, gravel root, plantain leaves, olive leaf extract, aloe vera gel -- all in base of pure vegetable glycerin, apple cidar vinegar, and raw, unfiltered honey.

The formula itself is handcrafted by a master herbalist and naturopathic "vitalist" in the U.S. who is a life-long student of Dr. Christopher's work -- an associate of Alpha Omega Labs for some years now.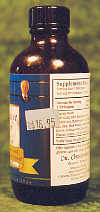 One of the reasons we collaborated on this formula is our own sense of "fair play." As good as this product is, our feeling was that $16.95 for just 4 fl. oz. -- (a common retail price point for this product), was a bit excessive. It amounts to only eight days of dosages at the recommended 1 tablespoon (15 ml.) per day. (Anti-Plague is not a tincture -- nor are the herbs uncommon.)

In addition, the product name, we feel, is slightly misleading:
Anti-Plague Syrup
[emphasis added]
. This product is NOT a syrup -- but instead yields a viscometer reading much closer to plain water: under 2.0 cP (centipoise).

Now our customers can enjoy the wonderful effects of
Anti-Plague
at a price point that is not so pricey.