Special Blend of 170 Nutrients: Vitamins, Minerals, Antioxidants, Whole Food Extracts!
"The Only Vitamin / Mineral Daily You'll Ever Need!"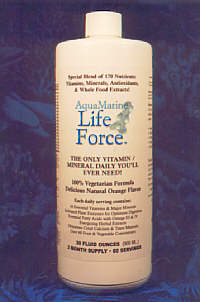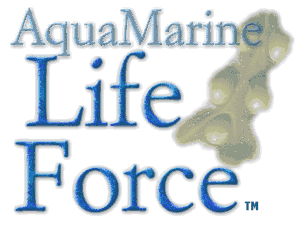 Code 503 -- Price:
$39.95
-->
$9.95
Net 30 Fl. Oz. --
(60 - 1 Tsp. Servings)
A Two Month's Supply

Availability

Note
-- It is not the slightest exaggeration to report that this is a $39.95 per bottle formula. Comparable product in volume and price point can be found in markets throughout North America, Europe, and Japan. If getting a product this good for this low a price induces "guilt complex," then just voluntarily remit the additional $30 difference for therapeutic relief.

here is a certain "flavor of the month" characteristic to the vitamin, mineral, and nutraceutical markets. Currently, in North America and Europe, liquid vitamin/mineral formulas are "all the rage," and, of course, they have a factual precursor that has helped drive the frenzy --- we now know that many orally consumed nutrients are assured of more complete uptake when taken in liquid form. (Herbalists have known for some time that many phytopharmacological agents are best taken in liquid form, as well -- even better when held sublingually beneath the tongue so that quick uptake can occur via saliva (crevicular fluid)). This phenomenon has already given way to a dazzling array of fragmentary product introductions, each product claiming to be somehow more different or special in some way. (Extraordinary product claims are the currency by which the health food markets and
MLM companies
in the West attempt to justify price differentiation with the mainstream -- after all, we can't let
Walmart
take over everything, now can we?) ; )

The formulation presented below (under "Supplement Facts") is more derivative than creative. We have taken the best concepts now manifesting themselves in the "liquid nutrient" market and put together a comprehensive "one Tablespoon" daily to cover not only all the basic vitamin and minerals, but herbal nutrients, as well.

After eclectically combining the best in the liquid nutrient market, we then attached to it a
VERY mainstream price
.

Do not expect
Aquamarine Life Force
to remain static in its formulary consistency. We expect the product to evolve as we learn more and the research end of our business provides more valuable inputs. For now,
we challenge anyone to get a better product for the price in "once a daily" nutritional product
. We formulated this product as if we wanted to create the best for our own families with no thought of resale ...

... only we're selling it for the price we'd hope to pay if we didn't.
Supplement Facts

Serving Size: 1 Tablespoon (15 ml.)
Servings Per Container: 60

Nutrient Description
Amount / Serving
% Daily Value
Vitamin A (as beta carotene)
5,000 IU
100%
Vitamin C (as ascorbic acid)
150 mg
250%
Vitamin D (as cholecalciferol)
400 IU
100%
Vitamin E (as di-alpha-tocopherol acetate)
30 IU
100%
Thiamin (as thiamin HCl)
3 mg
200%
Riboflavin (as riboflavin-5-phosphate)
2.12 mg
124%
Niacin (as niacin)
20 mg
100%
Vitamin B6 (as pyridoxine)
5 mg
250%
Folate (as folic acid)
400 mcg
100%
Vitamin B12 (as cyanocobalamin)
50 mcg
833%
Pantothenic acid (as d-calcium pantothenate)
10 mg
100%
Calcium (as coral calcium and dicalcium phosphate)
150 mg
15%
Magnesium (as coral calcium and magnesium phosphate)
75 mg
18%
Zinc (as zinc sulfate)
15 mg
100%
Selenium (as sodium selenite)
70 mcg
100%
Potassium (as potassium chloride)
25 mg
< 1%
Food Extract Blend
Aquamin (tm) Ionic Sea-Derived Essential Minerals
from Red Algae (Lithothamnium coralliodes) -- combined with the coral calcium (below), the range of minerals includes calcium, sulfur, magnesium, iodine, potassium, niobium, iron, phosphorus, silica, manganese, boron, strontium, titanium, tungsten, copper, zinc, zirconium, molybdenum, vanadian, chromium, selenium, lithium, gallium, barium, yitrium, neodymium, hafnium, cadmium, thorium, antimony, cerium, tellurium, beryllium, samarium, dysprosium, erbium, bismuth, cesium, lanthanum, praseodymium, europium, lutetium, terbium, ytterbium, holmium, thallium, tantalum, germanium, gold, platinum, rhodium, rubidium, ruthenium, scandium, silver, and indium.
100 mg
**
Calcium and Magnesium Complex from Coral Calcium, Dicalcium Phosphate and Magnesium Phosphate
850 mg
**
Botanical Polyphenols Complex -- Polyphenols and proanthocyanidins from green tea, grape seed, pine bark, grape skin and PhenalginTM (phlorotannin extract of Canary Islands Cystoseira canariensis marine algae).
50 mg
**
Whole Food Green Complex -- Beta-Carotene, barley grass, spirulina blue-green algae, alfalfa leaf, Dunalieila salina red algae, (source of Beta-Carotene), whole brown rice concentrate (source of B-complex vitamins), grapefruit extract.
165 mg
**
Essential Fatty Acid Complex -- Lecithin (soy phosphatides), flax seed (source of omega-III fatty acids), evening primrose and borage seed oils (sources of omega-VI fatty acids).
50 mg
**
Vitamin C Antioxidant Complex -- Ascorbic acid, acerola, hespiridin, rutin and quercetin
150 mg
**
Coenzyme Q10 Electrolyte Complex-- Potassium phosphate, sodium chloride, magnesium chloride and Coenzyme Q10
100 mg
**
Fruit & Vegetable Phytonutrient Enzyme Complex (whole juice) -- Beta-Carotene, Carotenoid Concentrate (carrot, peach, yellow squash, cantaloupe, tomato), Flavoniod Concentrate (orange, lemon, celery, grapefruit), Phenolic Acid Concentrate (grape, strawberry, cherry, pear) Cruciferous/Thioallyl Concentrate (broccoli, cabbage, cauliflower, brussels sprouts) Lutein Concentrate (spinach, kale, asparagus, alfalfa) Isoflavone Concentrate (soy genistein and daidzein) Enzyme Concentrate (papain, bromelain, amylase, lactase, protease, lipase, cellulase) pineapple, apple, beet, blueberry, plum, raspberry, watermelon, lime, leek or yellow pepper, onion, papaya
165 mg
**
Proprietary Herbal Combination with Aloe Vera (water extract) -- Aloe Vera Juice (Aloe barbadensis), Black seed (Nigella sativa), ginseng root (Panax ginseng), King Solomon seed (Polygonatum multiflorum watt.ell) yerba mate leaf (llex paraguariensis), astragalus root (Astragalus membranaceous), nettle leaf (Urtica dioica), marigold flower (Calendula off.) echinacea root (Echinacea purpurea), Alfalfa leaf (Medicago sativa), dandelion root (Taraxicum off.), cayenne fruit (Capsicum minimum), saw palmetto berry (Serenoa serrulata), red clover flower (Trifolium pratense), peppermint leaf (Mentha piperita), pumpkin seed (Cucurbita pepo), cinnamon bark (Cinnamomum cassia), ginger root (Zingiber of.), licorice root (Glycyrrhiza glabra), chicory root (Cichorium intybus).
1,000 mg
**
** -- Daily value not established.
Other Ingredients: Filtered water, natural flavors, xanthan gum, potassium sorbate, potassium benzoate, potassium citrate, cellulose gum, acesulfame potassium, and sucralose.
Directions: Take 1 tablespoon daily, directly or mix with juice or water; take during or after a meal. SHAKE WELL BEFORE USE. REFRIGERATE AFTER OPENING. Keep out of reach of children. Protect from heat, light and moisture. Store Store at 15-30*C (59-86*F).

Español, Português, Deutsch

Italiano, Français, Norsk
So what's the
difference between
our formula and
SeaSilver* ? . . .

. . . besides paying
4 times the price?

As much as anything else,
AquaMarine Life Force
is another case study in the pricing dynamics that gives nimble internet companies a leg up on far more expensive methods of distribution -- an advantage that, at times, makes the retail price points of
MLM companies
look comically obscene.

We spoke about this briefly in our review of
Acemannan
and lost souls who continue to harbor the notion that MLM companies offer products at competitive prices would do well to study our
MLM primer page
.

Nonetheless, readers should not construe our discourse on the mechanics of market pricing as a commentary on the product itself. Quite frankly,
SeaSilver
* is not a bad product. Liquid products that properly suspend recommended daily allowances of the full spectrum of vitamins and minerals -- with the latter taken from superior marine sources -- play a vital role in today's nutrient deficient dietary landscape.

As to the formulations themselves, the primary difference between our product and
SeaSilver
* has to do with vitamin content and sea mineral sources. We use
Aquamin
and SeaSilver* uses Sealogica. SeaSilver* concentrates more on vitamin content and then claims smaller amounts of trace elements which just happen to be present in the seaweeds. As one nutritionist who knows the formulation told us, "They are really promoting the Vitamin A, the Vitamin B group and protein contents of the product - not minerals."

The clear difference with
Aquamin
is that it is a MINERAL source - the main focus of which, is to improve intake and absorption of calcium and magnesium. Mineral content is high in Aquamin because it is a hard seaweed. The calcified remains or skeleton of the seaweed is harvested, which is milled to form a white powder. Sealogica appears to be live seaweed that is harvested, dried and ground to a powder form, making the contents lower. These are "soft," floppy seaweeds without an extensive skeletal structure high in minerals.

In Europe, Aquamin is generally marketed as a natural, organic, mineral ingredient source. It is harvested from the clean waters of the Atlantic Ocean off the Southwest Coast of Ireland. Because it is from a plant source, Aquamin is also suitable for vegetarians.

To U.S. Users:
Neither
AquaMarine Life Force
nor the contents of this page have been evaluated by the U.S. Food & Drug Administration. This product is not intended to diagnose, treat, cure, or prevent any disease.
* SeaSilver is a trademark of Seasilver USA, Inc. of Carlsbad, California (USA).