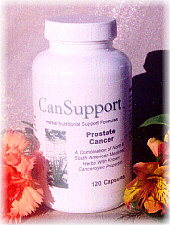 ENCAPSULATED VERSIONS
Herbal Nutrient Support
for Specific Cancer Types
Testimonials on this Product
CanSupport Introductory Page
Article:
HSI's take on the
chemopreventive
power of graviola
, a component of the
CanSupport formulas.

Based on the success of the original CanSupport formulas, CanSupport Capsules offer the benefits of the original liquid versions, with the added convenience of easy-to-travel, non-refrigerated capsules. All CanSupport formulas have not less than 300 mg. of graviola extract, which has proven cancer-fighting benefits, along with specific medicinal / nutritional botanicals which target specific types. For more information, visit the CanSupport introductory page, or view current unit pricing and special case discount information.



Directions: Take 2 capsules twice daily, or as prescribed by your health care practitioner.


Home Page | Order Form