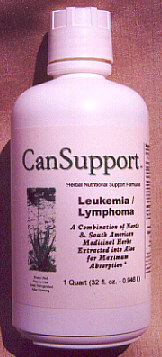 DIRECTIONS: As a dietary supplement, take one fluid ounce (2 Tbsp.) once daily or as directed by a health care professional.

DO NOT USE THIS PRODUCT IF YOU ARE PREGNANT OR LACTATING. KEEP OUT OF REACH OF CHILDREN.

To users in the U.S.: this statement has not been evaluated by the Food & Drug Administration. This product is not intended to diagnose, treat, cure or prevent any disease.

CanSupport - Leukemia / Lymphoma Cancer

32 fl. oz. (0.946 l.) - Code 870 - $48.95
Order Now

One of ten products in the CanSupport series of products, this nutritional support product centers around the unique herbal supplement needs of leukemia and lymphoma cancer patients. This product is a nutritional adjunct product, and should not be used to treat or cure disease.


Complimentary products, to be used in conjunction with this item, can be viewed on the in-depth subject page on leukemia and lymphoma cancers.


Ingredients: Aloe vera, into which the following South American herbal extracts have been infused: Physalis angulata leaf, Scoparia dulcis herb, Uncaria tomentosa bark, Simarouba amara bark, Petiveria alliacea, Schinus molle bark, Brunfelsia uniflorus vine, Momordica charantia.

---
User Comments:

(Under construction)...