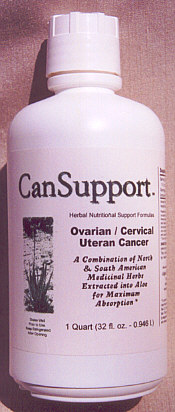 DIRECTIONS: As a dietary supplement, take one fluid ounce (2 Tbsp.) once daily or as directed by a health care professional.

DO NOT USE THIS PRODUCT IF YOU ARE PREGNANT OR LACTATING. KEEP OUT OF REACH OF CHILDREN.

To users in the U.S.: this statement has not been evaluated by the Food & Drug Administration. This product is not intended to diagnose, treat, cure or prevent any disease.

CanSupport - Ovarian / Cervical / Uteran Cancer

32 fl. oz. (0.946 l.) - Code 874 - $48.95
Order Now

One of ten products in the CanSupport series of products, this nutritional support product centers around the unique herbal supplement needs of ovarian, cervical and uteran cancer patients. This product is a nutritional adjunct product, and should not be used to treat or cure disease.


Complimentary products, to be used in conjunction with this item, can be viewed on the in-depth subject page on ovarian, cervical and uteran cancers.


Ingredients: Aloe vera, into which the following South American herbal extracts have been infused: Annona muricata leaf, Physalis angulata leaf, Petiveria alliacea, Maytenus krukovii bark, Guazuma ulmifolia bark, Momordica charantia leaf, Pfaffia paniculata root, Uncaria tomentosa bark, Cissampelos pariera vine, Boerhaavia diffusa.



User Comments:




Case # 092400
Ovarian, Stage III & Cansema Tonic III
(Used in conjunction with conventional treatment)


I want to share with you the results one of my patients is having using Cansema for ovarian cancer. She is 45 years old and was having vague abdominal symptoms. A gyn check followed by an ultra-sound confirmed a suspicious mass. Surgery confirmed ovarian cancer, Stage III. She recovered okay from the surgery, went to MD Anderson in Houston for a consultation.


I told her about Cansema and the results others were having. She started on it that week. Three weeks later she started chemotherapy. After her second round her blood counts were so low that she could not take the third round. A CA125 blood test, which is a marker for following ovarian cancer after their surgery was is repeated came back in the normal range. What is unusual is that CA125 typically takes much longer to return to normal, at the end of chemotherapy. She is convinced it is the result of taking the Cansema.



Dr. Charles S., M.D.
Texas (USA) - Sent via email: 9/24/2000
Read and posted: 1/24/02

Home | Catalog | Top of Page
CanSupport Introduction

Español, Português, Deutsch





Italiano, Français, Norsk