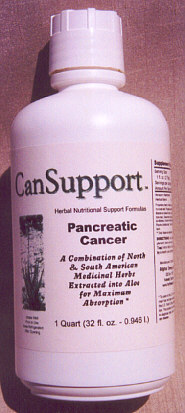 DIRECTIONS: As a dietary supplement, take one fluid ounce (2 Tbsp.) once daily or as directed by a health care professional.

DO NOT USE THIS PRODUCT IF YOU ARE PREGNANT OR LACTATING. KEEP OUT OF REACH OF CHILDREN.

To users in the U.S.: this statement has not been evaluated by the Food & Drug Administration. This product is not intended to diagnose, treat, cure or prevent any disease.

CanSupport - Pancreatic Cancer

32 fl. oz. (0.946 l.) - Code 876 - $48.95
Order Now

One of ten products in the CanSupport series of products, this nutritional support product centers around the unique herbal supplement needs of pancreatic cancer patients. This product is a nutritional adjunct product, and should not be used to treat or cure disease.


Complimentary products, to be used in conjunction with this item, can be viewed on the in-depth subject page on pancreatic cancer.


Ingredients: Aloe vera, into which the following South American herbal extracts have been infused: Annona muricata leaf, Physalis angulata leaf, Maytenus krukovii bark, Guazuma ulmifolia bark, Dracontium longipes, Petiveria alliacea, Uncaria tomentosa bark, Peumus boldus leaf, Schinus molle bark.

---
User Comments:

(Under construction)...