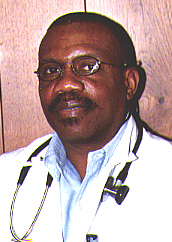 Eric Brown, M.D.
--
Consultation Fees
--

Many of our customers require personal medical attention in a jurisdiction where effective, alternative treatments - particularly with cancers - is legal and encouraged.

It is with great pride that we are able to make referrals to Dr. Eric Brown here in the Bahamas.


Background: Dr. R. Eric Brown was born in Nassau, Bahamas on July 26, 1957. He graduated from Queens College (London, England) in 1975, before attending the University of Illinois in Chicago, where he graduated in 1979. He attended the University Of Santo Domingo and the University of The West Indies College of Medicine in 1983. Subsequently he pursued family medicine in 1984 and completed training in 1987. He attended the Johns Hopkins School of Public Health from 1987 to 1988 and started his private practice. In 1990 he pursued residency in Dermatology at The University of Wales in the United Kingdom, which he completed in 1993. He is a graduate of the University of Miami Graduate Fellowship program in Dermatology and Cutaneous Surgery.


From 1994 to the present, Dr. Brown has devoted his life to alternative medicine and is presently the Medical Director of The Sunrise Medical Center, the oldest medical establishment on Grand Bahama Island. He has travelled extensively in search of alternative therapies and is a Consultant Physician and Researcher in Cancer Nutrition at the world-famous IAT (Immuno Augmentative Therapy) clinic in Freeport, Bahamas, founded by Dr. Lawrence Burton.


Dr. Brown is a current member of the American Medical Association, the American Academy for the Advancement of Science, American Academy of Family Physicians, British Association of Physicians and The Bahamas Medical Association.


Dr. Brown can be emailed at drbrown@altcancer.net



Top of Page

<!- SECOND COLUMN ->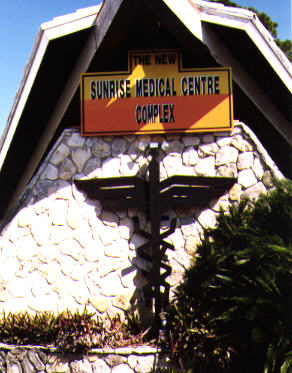 Above: The Sunrise Medical Centre is the oldest medical establishment on Grand Bahama Island, a few minutes drive from the Freeport Airport (or "FPO," 65 miles from Ft. Lauderdale, Florida).


Dr. Eric Brown, our primary physician here in the Bahamas, is the Medical Director there. The purpose of this page is to provide instructions on making flight arrangements there, provide directions (see map link below), and let you know what to expect on arriving at Freeport.
Notes on Coming
To The Bahamas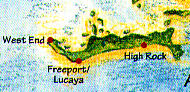 Before coming to the Bahamas, you should make arrangements with Dr. Brown, or a member of his staff. You can call the clinic at (242) 351-4400, or email him at drbrown@altcancer.net. (Due to the large volume of calls Dr. Brown receives worldwide, we do ask our customers to acquaint themselves with his modest consultation fees). Depending on the nature of your case, Dr. Brown may want you to send copies of your medical records first and he will want to discuss the particulars of your case well before you come to Freeport. You are free to discuss any aspect of your treatment when speaking to Dr. Brown, as well as medical expenses.


Travel to Freeport Airport ("FPO") is amazingly simple. Both Continental Express (part of Continental Airlines) and American Airlines fly there daily and the airfare is comparable to flying from where you are now to one of Florida's smaller airports. One big difference, however, is that you are going to need your passport or a copy of your birth certificate. We recommend getting a passport.


The small island photo above links to a larger picture of the Bahamas, showing its relation to the coast of Florida, but you will want to see a Freeport map so that you know the location of the airport in relation to Sunrise Medical (which is directly south of it, and is clearly marked on the map, on East Sunrise Hwy). You can either rent a car when you get to Freeport - (Avis, Hertz, National, and Budget all have small offices there), or just take a taxi. If you aren't used to driving on the left side of the road, in a car with the steering wheel on the right, we recommend the latter. The fare is roughly $6 from the airport to Sunrise Medical and it takes less than 10 minutes to get there. You will also notice that buildings are not marked with numbered addresses. The weather is tropical. And everybody takes MasterCard and Visa.


Hotel accommodations are comparable with the States, and the food at the better restaurants is exceptional.


There are plenty of great links to keep you posted on the islands, including Bahamanet and Bahamas.com.



Home | Order | Contact Us