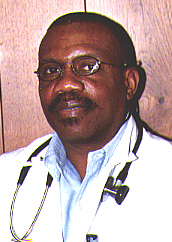 Eric Brown, M.D.

Dr. Brown's Resume

Physical location of Freeport, Bahamas in relation to Florida.


---
When to Call Us &
When to Call Dr. Brown

---

Customers should email us with any questions concerning Alpha Omega products (i.e. directions, ingredients, contraindications, etc.); comments or questions concerning this web site; personal medical questions where a master herbalist's input would be helpful; or testimonials.


We do not charge anything for our herbalists' consultations.


If, however, you require the advise of a medical physician -- particularly one with extensive clinical experience in alternative cancer therapies, we highly recommend that you call Dr. Brown. Although many of our customers have physicians or other health care practitioners in their locale that can properly service their health needs, many others do not. Remember, physicians in many countries, particularly the United States, can lose their medical license if they recommend an "unapproved" drugs or therapy. Physicians in the Bahamas are given far greater latitude to use their best professional judgement -- here, the "doctor/patient" relationship is considered sacrosanct, and to a far greater extent, physicians are trusted to do what is best for the patient.


Yes, Dr. Brown will charge you a consultation fee. He has to: whereas the offices of Alpha Omega are funded by the sale of our products (hence, the salaries of our herbalists), Dr. Brown has no other way to cover his overhead. We hope you understand this.


Top of Page

<!- SECOND COLUMN ->

A Word About
Consultation Fees





Because of the large volume of calls that Dr. Brown receives from our customers worldwide -- only some of whom actually visit his clinic in person, it has been necessary to institute a modest consultation fee. That fee is $50 per consultation -- to which, because of the sheer number of calls, Dr. Brown attempts to keep within a fifteen minute time span. This is reasonable given the considerable breadth of Dr. Brown's experience as a specialist in both conventional and alternative cancer therapies and modalities (see resume), and the high demand for his services as the Medical Director of the Sunrise Medical Centre, the oldest and most established of Grand Bahamas' five "high-standard" private clinics; a primary oncologist at the world-renowned IAT Clinic, and the primary clinician to Alpha Omega Labs. The email consultation services of Alpha Omega's in-house herbalists will continue to be free of charge -- but they are no substitute for those situations that call the professional judgement of a medical doctor of Dr. Brown's background. If you read this page carefully, you will be able to make the most of your time with Dr. Brown and get answers to your most pressing questions.



Things To Have Handy
Before You Make The Call


Most of these items will appear to many as common sense -- and yet they are overlooked by many callers:

Medical Records -- Be sure to have copies handy of any blood work, antigen tests, radiology reports -- in short, any prior medical paperwork that has direct bearing on your current quer(ies).
List of Questions / "Pad and pen" -- Many people will call Dr. Brown and speak extemporaneously about their problem. It's much better to write out a list of questions you have, in clear, concise terms prior to calling -- that way you are more sure to cover your issues completely and most satisfactorily. You might want to use a legal pad, for instance, and write your questions on the left side or half of the pad, leaving space on the right to jot down the highlights of Dr. Brown's responses. Your "pad and pen" should be ready from the moment you call. Another good idea is to list your questions a day in advance, and leave time to "think it over," so that you don't forget anything important.
Alternative Time(s) to Call -- Often times, Dr. Brown is busy with patients or consulting with other physicians. You may not be able to speak with him immediately when calling. So be sure to have a clear idea as to what alternative times you will be able to call back. One of the assistants at Sunrise Medical will make an appointment for you, if you are prepared. Remember that Freeport is located in the Eastern Time Zone (i.e. same as New York), so keep this in mind when scheduling your appointment.

Method of Payment


To make billing issues easier for our customers, all products purchased from Alpha Omega Labs appear on credit card statements as "Alpha Omega Labs" or "AO Labs." All consultation work performed by Dr. Brown will appear as "Dr. Eric Brown." This eliminates any guesswork on billing by our customers.


Alpha Omega Labs accepts M/C, Visa, American Express and Discover. Currently, on Dr. Brown's account, we accept MasterCard and Visa only.



Home | Order | Contact Us
Español, Português, Deutsch





Italiano, Français, Norsk