Jergon sacha is a rainforest plant, common to the northwest Amazon -- (ours is harvested from the Peruvian Amazon). Our variety refers to D. longipes, D. loretense, or D. peruviuanum, as all three have the same appearance and properties. Although the primary ethnobotanical use of Jergon is to address snackbites -- (in fact, the plant even LOOKS like the highly poisonous
(genus) of snakes which grow in the same area of the rainforest) -- it has other important medicinal properties. (See below).
Uses & Protocols

Once you get beyond Jergon's use as an antidote for snack and spider bites, stringray wounds, and curare dart attacks -- hardly relevant to most users outside Jergon's native areas -- the next category of medicinal applications tends to be anti-viral. In fact, Jergon is one of three ingredients in a Peruvian AIDS (CIDA) remedy. (The other two ingredients are cat's claw and turmeric). Other common ailments for which Jergon is used ethnobotanically include menstrual disorders, chlorosis, asthma, gout, pertussis, sores, and worms. Dosage: two capsules, two to three times daily.
Warnings & Contraindications

None noted when product used as prescribed.
Shelf-Life

Five years or more.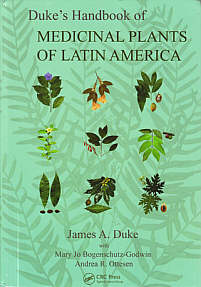 Medicinal Activities

Further information for practitioners:
World-famous botanist Dr. James Duke attributes the following activities to this plant
(p. 275-277; see hardcopy cover at right),
drawn from the extant literature. (See his graduation for "level of efficacy" on our
amazon traditionals page
; followed by Duke's bibliographic abbreviations (in capital letters), which we
identify on a separate page
.)

Duke provides a "
food farmacy potential
" score for this plant of "FNFF=?."
Anthelmintic (f; JFM; RAI)
Antiasthmatic (f; MPB)
Antidote (f; RAI; RAR)
Antidote (curare) (f; RAI)
Antidote (spider) (f; RAI)
Antidote (stingray) (f; RAI)
Antiinflammatory (f; RAI)
Antiophidic (f; RAI)
Antioxidant (1; 60P)
Antiradicular (1; 60P)
Antispasmodic (f; EB23:108; MPB)
Antitussive (f; RAI)
Antivenom (f; RAI)
Antiviral (f; RAI)
Caustic (f; MPB)
Emmenagogue (f; RAR; WOI)
Herbicide (f; RAR)
Herpetofuge (snake-repellant) (f; DAV)
Immunostimulant (f; RAI)
Larvicide (f; MD2)
Stimulant (f; EB23:108)
Toxic (f; MPB)
Verrucolytic (f; DLZ)
Vulnerary (f; RAR)
Indications

Further information for practitioners:
Duke provides the following indications for this plant:
Abcesses (f; MD2)
Amenorrhea (f; MPB)
Asthma (f; EB23:108; MPB; SAR)
Boils (f; MD2)
Botfly (f; MD2)
Cancer (f; RAI)
Cardiopathy (f; RAI)
Chlorosis (f; MPB; RAI)
Coughs (f; RAI)
Dermatosis (f; MPB; RAI)
Diarrhea (f; SAR)
Dysmenorrhea (f; RAI)
Enterosis (f; RAI)
Gastrosis (f; RAI)
Gout (f; MPB; RAI)
Hemorrhoids (f; EB23:108)
Hernia (f; RAI)
Herpes (f; RAI)
HIV (f; JAD)
Infection (f; RAI)
Inflammation (f; RAI)
Oliguria (f; RAI)
Palpitations (f; RAI)
Pertussis (f; MPB; RAI)
Scabies (f; MPB; RAI)
Shakes (f; DAV)
Shingles (f; RAI)
Snake Bite (f; DAV; EB23:108; JFM; MD2; RAI; SAR)
Sores (f; MPB; RAI)
Spasms (f; EB23:108; MPB)
Spider Bites (f; RAI)
Swelling (f; JFM)
Tremors (f; RAI)
Viruses (f; RAI)
Warts (f; DLZ)
Worms (f; JFM; RAI)
Wounds (f; RAR; 60P)