Discover the Healing Power of
Our North-Facing Biomagnetic Systems
Availability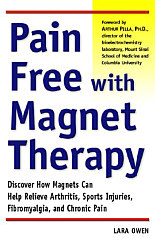 here are few new therapies to emerge in recent times that show as much potential therapeutic benefit - without high cost, without toxicity or other issues of side effect, without the need for costly follow-up, as magnet therapy. (There are a variety of excellent, well-researched books on the market that provide an introduction to magnet therapy. One is the book to the right by Lara Owen, which you can click on to enlarge, or read reviews at Amazon.com).


Our interest in magnet therapy grew out of three obvious facts after we examined this area in depth:

Magnet therapy works and its foundation as a therapeutic modality is well founded both in theory and in clinical results,
Professional standards are non-existent. The fact is, the most well-known perveyor of magnetic products in the West are multi-level marketing firms, notably Nikken. Distributors of this company have no idea what magnets are in the products they sell; they rarely know the number of magnets, their polarity to the body, their size or guass strength. The best kind of magnets are NORTH-FACING MAGNETS, and in studies we conducted, Nikken magnets were all over the board in terms of polarity. Polarity is therapeutically important in the manufacture of a finished product.
Costs are ridiculous. As an example, we provide a cost comparison between Nikken magnetic mattress pads, which do not have consistent north-facing magnets, and our own
| | | |
| --- | --- | --- |
| Description | Our Price | Nikken Retail Price |
| Twin Mattress Set - 36" x 72" | $ 199.95 | $ 848.00 |
| Queen Mattress Set - 60" x 72" | $ 299.95 | $1,248.00 |
| King Mattress Set - 72" x 72" | $ 379.95 | $1,489.00 |
The Unsubstantiated Hype Behind Pole Patterns

In order to try and justify high prices for their products, magnetic product manufacturers have attempted to claim that their products have a unique "pole pattern." The majority of the published research has used parallel line pole patterns. This research indicates exceptional results in both human and animal studies. The principal reason offered for the positive results is the Hall Effect (15). Other pole patterns that have been developed include concentric rings, checkboard squares and diamond pattern designs. These seem to perform as well as the parallel line pattern, therefore, research has proven that pole patterns do not appear to be an important factor as some companies may suggest.


But polarity does.


North pole energy has a counterclockwise spin which produces the following recuperative effects:

Relieves pain
Slows bleeding and stops minor hemorrhaging
Slows down overactive organs caused by stress or disease
Increases energy and accelerates healing
Improves circulation
Reduces acidity
Raises pH - increases alkalinity
Has the ability to dissolve the build up of fatty material, including cholesterol
Can be used as a weapon for weight control
Provides a deep restorative sleep
Has the ability to reduce inorganic calcium deposits
Fights infection
"It has been clinically established that north pole energy arrests protein activity, draws fluids, contracts, vaso-constricts, increases alkalinity, acts to sedate or inhibit pain, increases potassium ions, decreases abnormal calcium ions and decreases hydrogen ion concentration. The north pole can be said to be the normalizing energy. It normalizes the alkaline state of the body but never produces an over alkalinized condition. It oxygenates the body but never produces oxidized free radicals. It has a normalizing effect no matter how long the exposure."


Dr. Richard Broeringmeyer
North Polarity Magnet Configurations:
How We Make Our Products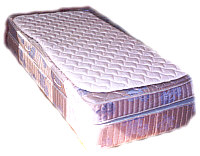 Our magnetic therapy products (consisting initially of the North Polarity Magnetic Mattress Pads) are made with the following unique characteristics:

Superior Magnets. We use the most powerful ceramic magnets available. Each is rated at 3,950 gauss and is approximately 3/8" (9.52 mm) thick, sufficient to retain their strength over the course of a human lifetime. The combination of high gauss strength and thickness determines the penetration depth of a magnet. Most manufactures hide this fact or they simply do not know. They disclose half of the equation as to what determines the efficacy of a magnetic sleep system, relying only on the gauss rating as a way of determining depth penetration. ANY person considering purchasing a magnetic sleep system should know this. Additionally, our magnets are placed in a balanced pattern specifically designed to enhance the bio-north magnetic energy field.
When comparing our prices to any other magnetic mattress manufacturer, you need to compare these features. To keep costs down, other manufacturers use very small, "button-type" magnets, effectively reducing the efficacy of their product.
High Quality, Low Maintenance Padding. We begin our mattress pad construction utilizing a top quality, luxurious white satin damask material which is quilted into a silver leaf pattern. As this is the top of the mattress pad, it has been specially treated to protect the surface from stains. If something spills on the mattress pad, simply pat dry using a paper towel - no stain!
Discolor Prevention. Underneath the white damask material we insert a quality polyester pad. This is designed to prevent the foam pad from discoloring the white damask. Most manufacturers omit this important step.
Plush Foam Padding. Next... we place a plush foam pad with a compression ratio of approximately 1.2, under the polyester pad to ensure a most comfortable nights sleep.
Secured Polarity. The magnets are then inserted and attached underneath the foam pad using a super strength adhesive that inhibits the magnets from "flipping" over on one another. A second plush foam pad is then placed under the magnets, thereby "sandwiching" the magnets between two foam pads. This helps maintain their position and secures their relative polarity. Some manufacturers omit this pad.
Quality Cover. Lastly, a premium grey guilted polyester/fabric, with a matching quilted leaf pattern, is used to complete the mattress pad. This combination of white damask and grey quilted backing is used to easily identify which side of the mattress pad is bio-north (the white damask) and which side is bio-south (the grey quilted backing).
In constructing our mattress pad we have not side-stepped or omitted any steps in producing a top-quality, premium sleep system. Utilizing only premium grade materials we have adopted the highest standards recommended by our textile suppliers.
Using Your North Polarity Magnetic Mattress Pad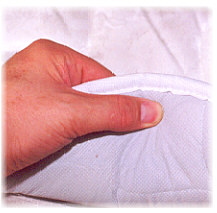 Place the fitted North Polarity Magnetic Mattress Pad over your existing mattress with the white damask (not the grey quilted backing) facing UP. Then cover with your existing bottom-fitted sheets.


In the event you experience excessive energy at night, as some people are more sensitive to magnetic energy, you may find getting to sleep initially difficult. If you are one of those people don't despair, we recommend that you place a soft blanket on top of the magnetic sleep system and cover with a fitted sheet. You will be insulating yourself from the strong magnetic field. During this time you will experience the benefits of the magnetic sleep system. Continue using this intermediary for about 90 days and then remove the blanket and lay directly on top of the mattress pad. By now your body should be acclimated to the bio-north energy field and a more restful night's sleep will follow.


Last note: Interestingly, on researching the use of magnetic mattress systems, we found that a large percentage of women typically look at the system as a way to reduce/eliminate migraine headaches. Men tend to purchase the system to relieve aches and pains, and to relieve circulatory problems.




Home | Order Form | Top of Pg.

Español, Português, Deutsch

Italiano, Français, Norsk
Footnotes
---
1 Ulrich Warnke, M.D. - Magnets To Overcome Pain: The New Healing Method
2 Robert Holcomb, M.D., Assistant Professor of Neurology at Vanderbilt University Medical Center
3 J.B. Baron, M.D., Medical Convention at Baylor College of Medicine, Texas
4 Carlos Vallbona, M.D., Baylor College of Medicine, Dept. of Family and Community Medicine and Distinguished Service Professor
5 W. Bradley Worthington, M.D., Former President of the Tennessee Society of Anesthesiologists
6 Richard Leviton, Science Writer, "Healing with Nature's Energy" - East-West Journal, June, 1986
7 Dr. Madeleine P. Barnothy, M.D., Biological Effects of Magnetic Fields
8 Dr. Evelyne Holzapfel, Magnetic Therapy
9 George A. Rolfs, D.C., Energy Therapy
10 Dr. Ralph U. Sierra, Power in a Magnet to Heal
11 Neville S. Bengali, M.D., Magnet Therapy: Theory & Practice
12 Louis Donnet, M.D., Magnets for Your Health
13 William H. Philpott, M.D., New Hope: Magnet Therapy
14 A.K. Battacharya, M.D., Healing by Magnets
15 Edwin H. Hall (1855-1938). The Hall Effect explains the effect of polarity alignment placed at right angles to the blood flow. Since blood flows in all directions in the body, any alternating pole alignment will produce the same general effect.
16 Ryan Vermillion, M.D., Director of Rehabilitation for the Miami Dolphins. In fact, the Miami Dolphins are so confident on the positive effects of magnets that they have purchased magnetic pads for the players to sit on during games when they are resting!
17 Betty Sisken, Ph.D., Professor at the Center for Biomedical Engineering, University of Kentucky; president-elect, The Bioelectromagnetics Society.
18 Kurt Angle, 1996 Olympic Gold Medalist, Wrestling
19 Larry Gilbert, Senior PGA Tour
20 Keolti Kamau, Trainer, San Diego Chargers
21 Jim Everett, Quarterback, L.A. Rams
22 Kurt Fielding, Trainer, Green Bay Packers
23 Jim Colbert, Professional Golfer, Senior PGA Tour
24 Hank Aaron, Baseball Hall of Fame Inductee
25 Bob Murphy, Professional Golfer, PGA Tour
26 Donna Andrews, Professional Golfer, LPGA Tour
27 Dan Marino, Quarterback for Miami Dolphins
28 Andy Griffith, American Actor

Medical Experts
on Magnet Therapy

"Magnetic energy has a beneficial effect on blood circulation, lymph flow, hormone production, nerves and muscles."


Ulrich Warnke, M.D.
1

"This is not magic. There is nothing mystical about this ... We have tested magnets on more than 5,000 patients and there is absolutely no doubt... the treatment works!"


Robert Holcomb, M.D.
2

"This is a revolution in the therapy for muscle injuries, joint pain and posture problems. We have treated 4,000 patients with whiplash injuries by means of the magnets and cured 80 percent."


J.B. Baron, M.D.
3

"Pain is a universal condition - all of us have it at one time or another. Many people don't like taking drugs, and they are seeking alternative approaches for therapy... I was a skeptic about magnets until I did a study that proved they worked."


Carlos Vallbona, M.D.
4

"They (magnets) have proven effective in more than 80% of patients... In some cases such as carpel tunnel syndrome, the success rate is 95% There's no doubt about it - millions of people can be helped from chronic pain by the use of magnets."


W. Bradley Worthington, M.D.
5

"Magnetic therapy in Japan and elsewhere in parts of Europe and Asia has become a kind of folk medicine, a reliable form of medical self-care."


Richard Leviton
6

"The magnetic field will, in due time, develop into a powerful new analytic and therapeutic tool of medicine."


Madeleine P. Barnouthy, M.D.
7

"The application of a magnetic field has the virtues of simplicity, freedom from danger and low cost. It offers the lay manor woman a suitable form of self-treatment for the minor ills of everyday life."


Dr. Evelyne Holzapel
8

"This is the most exciting thing I have seen since I discovered chiropractic for the first time. All chiropractors should know about magnet therapy."


George A. Rolfs, D.C.
9

"We now stand on the verge of a great new age in magnetic science and its application - a tool that has been provided by Mother Nature herself."


Dr. Ralph U. Sierra
10

"The astounding results obtained through magnet therapy gives it a place of considerable importance in the field of therapeutics."


Neville S. Bengali, M.D.
11

"Besides being easy, efficient and inexpensive, magnet therapy holds, furthermore, a total guarantee of safety."


Louis Donnet, M.D.
12

"It is hoped that the use of magnetic energy can be kept non-prescriptive for easy availability for home and self use."


William H. Philpott, M.D.
13

"Every family should have a couple of magnets and know how to apply them in minor ailments and infections."


A.K. Battacharya, M.D.
14

"Our players have used magnets for two years and they have proven to be an effective aid in the recovery of professional football's aches, pains and injuries."


Ryan Vermillion, M.D.
16

"Our research has confirmed that magnetic fields can have important effects on nerve growth and regeneration, and may provide other rewards (as well)."


Betty Sisken, Ph.D.
17
Stars & Athletes
on Magnet Therapy

"I've used hundreds of pain relieving products from all over the world and ... bio-magnetic therapy products have given me the best results."


Kurt Angle
18

"I had a bone spur in my right ring finger that I wore tape on for years. A few years ago, I started wearing magnets taped to each side. I don't even have to wear them now - it doesn't bother me anymore!"


Larry Gilbert
19

"Because I know magnetic products work in professional football, I know they can work everywhere."


Keolti Kamau
20

"Re: evaluation of the magnetic paid, it was a raging success. Just as you attested, the pad brought wonderful results. Anybody that has circulatory problems, lower back or other related pain should never sleep without the pad."


Jim Everett
21

"I've been using biomagnetic therapy in different forms for over ten years..."


Kurt Fielding
22

"I haven't missed a day of golf in three years. I couldn't play golf without wearing magnets. I guarantee you!"


Jim Colbert
23

"... Magnets make me feel like playing baseball again."


Hank Aaron
24

"You have nothing to lose and everything to gain by trying magnetic bracelets."


Bob Murphy
25

"Wearing magnets helped me feel well and play well."


Donna Andrews
26

"I know what a difference magnets have made in my life! I would like to help anyone else I can feel this great!"


Dan Marino
27

"Dr. Lawrence brought magnet therapy to my attention, for which I thanked him."


Andy Griffith
28
Top of Page