Malluca or "Balloon Cherry," is a close relative of what here in Ecuador we call "Uvilla" (Goldenberry / "Physalis peruviana"). They look very similar, especially the calyx and fruit, but they have very different medicinal properties. Like "uvilla," Malluca is an herbaceous annual, which likes plenty of sun, but can grow on marginal soil. Unlike Goldenberry, it prefers lower elevations with higher temperatures, which is why it thrives in the tropics.
Uses & Protocols

Throughout indigenous parts of South America, Mullaca is used to treat asthma, bacterial and viral infections, dermatoses, fever, hepatosis, nausea, nephrosis, and inflammation. Dosage: two capsules, two times a day.
Warnings & Contraindications

Taylor notes that for those taking heart medications, blood thinners, or those with other heart problems or low blood pressure, one should
not
use Malluca without direction from a qualified health care practitioner.
Shelf-Life

Five years or more.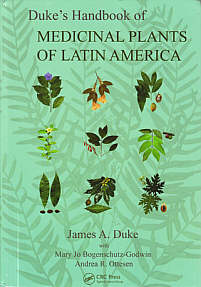 Medicinal Activities

Further information for practitioners:
World-famous botanist Dr. James Duke attributes the following activities to this plant
(p. 535-537; see hardcopy cover at right),
drawn from the extant literature. (See his graduation for "level of efficacy" on our
amazon traditionals page
; followed by Duke's bibliographic abbreviations (in capital letters), which we
identify on a separate page
.)

Duke provides a "
food farmacy potential
" score for this plant of "FNFF=!."
Acaricide (f; EGG)
Analgesic (f; EGG; RAR)
Anthelmintic (f; EGG; RAR)
Antiedemic (1; JE89:171)
Antiinflammatory (f1; DAV; JE89:171)
Antileukemic (1; RAI; X1622143)
Antilymphocutic (1; X1622143)
Antiseptic (f1; DAV; EGG; RAI)
Antispasmodic (1; RAI)
Antitumor (1; RAI; X1622143)
Antiviral (1; RAI)
Bactericide (1; RAI; X10969728)
Cytotoxic (1; FT72:676)
Depurative (f; MPB; RAI)
Diuretic (f; DAV)
Expectorant (f; RAI)
Gram(+)-icide (1; RAI)
Gram(-)-icide (1; RAI)
Hypoglycemic (1; RAI)
Hypotensive (1; RAI)
Immunomodulator (1; AJC20:233)
Immunostimulant (1; RAI)
Insecticied (f; EGG)
Molluscacide (1; X12886428)
Myocontractant (1; RAI)
Narcotic (f; DAV; EGG)
RT-Inhibitor (1; RAI)
Topoisomerase-II-Inducer (1; X2539141)
Topoisomerase-II-Inhibitor (1; X1658010)
Tranquilizer (f; MPB)
Vermifuge (f; DAV)
Indications

Further information for practitioners:
Duke provides the following indications for this plant:
Abortion (f; JFM)
Abcesses (f; EGG)
Acariasis (f; EGG)
Adenocarcinoma (1; FT72:676; RAI)
Asthma (f; DAV; EGG; RAI)
Bacteria (1; RAI; X10969728)
Bleeding (f; RAI)
Boils (f; RAI)
Cancer (1; FT72:676; RAI; X1622143)
Cancer, brain (1; FT72:676; RAI)
Cancer, cervix (1; FT72:676; RAI)
Cancer, colon (1; FT72:676; RAI)
Cancer, liver (1; FT72:676; RAI)
Cancer, lung (1; FT72:676; RAI)
Cancer, nose (1; FT72:676; RAI)
Cancer, pharynx (1; FT72:676; RAI)
Childbirth (f; RAI)
Cholecocystosis (f; RAI)
Colic (f; MPB)
Congestion (f; RAI)
Cramps (1; RAI)
Dermatosis (f; DAV; DLZ; EGG; RAI)
Diabetes (f1; EGG; RAI)
Diarrhea (f; RAI)
Dysmenorrhea (1; RAI)
Dyspepsia (f; JFM; RAI)
Earache (f; DAV; EGG)
Edema (f; RAI)
Fever (f; JFM; RAI)
Fungus (f; EGG)
Gastrosis (f; AHL; RAI)
Glioma (1; FT72:676; RAI)
Gonorrhea (f1; JE48:85; JFM; RAI)
Hemorrhoids (f; EGG; RAR)
Hepatosis (f; DAV; EGG; RAI)
Herpes (1; RAI)
HIV (1; RAI)
High Blood Pressure (1; RAI)
Hysteria (f; DLZ)
Infection (f1; DAV; EGG; RAI; X10969728)
Infertility (f; RAI)
Inflammation (f1; DAV; EGG; JE89:171; RAI)
Itch (f; EGG; RAI)
Jaundice (f; DAV; RAI)
Leukemia (1; RAI; X1622143)
Malaria (f; DAV; EGG; RAI)
Measles (1; RAI)
Melanoma (1; FT72:676; RAI)
Miscarriage (f; RAI)
Mycobacterium (1; RAI; X10969728)
Mycoplasma (1; RAI)
Mycosis (f; EGG)
Nausea (f; RAI)
Nephrosis (f; DLZ; RAI)
Oliguria (f; RAI)
Ophthalmia (f; RAI)
Orchosis (f; RAI)
Pain (f; EGG; RAR)
Polio (1; RAI)
Proctosis (f; RAI)
Pseudomonas (1; RAI)
Puerperium (f; RAI)
Rheumatism (f; DAV; EGG)
Sores (f; EGG)
Spasms (1; RAI)
Staphylococcus (1; RAI)
Streptococcus (1; RAI)
Swelling (f1; JE89:171; RAI)
Syncope (f; RAI)
Toothache (f; AHL)
Tuberculosis (1; X10969728)
VD (f1; JE48:85; JFM; RAI)
Viruses (1; RAI)
Worms (f; DAV; EGG; RAI)