Mutamba, also known as "Bastard Cedar," "bay cedar," and "West Indian elm," is medium-sized tree, growing up to 30 meters high, common to pastures and disturbed forests. Like
, it is prized both for its value as a hardwood as well as its medicinal uses. Its range of distribution is parts of Mexico, the Carribean, and Central/South America.
Uses & Protocols

Ethnobotanical, medical uses for Mutamba tend to first make use of its antimicrobial profile: it is first used to treat hepatosis, nephrosis, prostatosis, uterosis, dermatosis, gastrosis, pulmonosis, elephantiasis, diarrhea, dysentery, and even gonorrhea. Other medicinal uses include: childbirth, colds, flu, for use as a diuretic and depurative, etc.

A more recent and interesting medicinal application is the treatment of male pattern baldness. Japanese researchers reported in a series of studies (2000-2002) that
procyanidin B-2
, of which Mutamba is rich, promotes hair cell growth and increases the total number of hairs on a "designed hair scalp." (Taylor, p. 368)
Warnings & Contraindications

Contraindicated for those who are pregnant, have a heart condition, particularly where hypotensive and/or where antihypertensive drugs are taken.
Shelf-Life

Five years or more.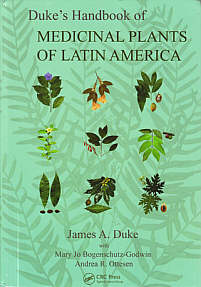 Medicinal Activities

Further information for practitioners:
World-famous botanist Dr. James Duke attributes the following activities to this plant
(p. 338-241; see hardcopy cover at right),
drawn from the extant literature. (See his graduation for "level of efficacy" on our
amazon traditionals page
; followed by Duke's bibliographic abbreviations (in capital letters), which we
identify on a separate page
.)

Duke provides a "
food farmacy potential
" score for this plant of "FNFF=!!."
Analeptic (1; TRA)
Anaphrodisiac (f; VOD)
Angiotensin Inhibitor (1; RAI)
Antidote (comocladia) (f; AHL; JFM)
Antiherpetic (1; TRA)
Antiinflammatory (f; RAI)
Antimelanomic (1; RAI)
Antioxidant (1; RAI)
Antiprostaglandin (1; TRA)
Antiradicular (1; RAI)
Antiseptic (1; TRA)
Antitumor (f1; RAI)
Antitussive (f; RAI; VOD)
Antiulcer (f; RAI)
Antiviral (1; RAI; TRA)
Astringent (f1; AAB; AHL; JFM)
Bactericide (1; AAB; RAI; TRA)
Bronchodilator (1; TRA)
Cardioprotective (f; RAI)
CNS-Stimulant (1; TRA)
Cytotoxic (1; MPG; TRA)
Depurative (f; JFM; RAI; RAR; VOD)
Diaphoretic (f; AHL; JFM; RAI)
Digestive (f; RAI)
Diuretic (1; JFM; TRA)
Emollient (f; DAV; RAR)
Febrifuge (f; RAI)
Fungicide (1; RAI)
Hemostat (f1; DAV; RAI)
Hepatoprotective (f; RAI)
Hypoglycemic (1; RAI)
Hypotensive (1; RAI)
Myorelaxant (1; RAI)
Nephroprotective (1; RAI)
Orexigenic (f; JFM)
Parasiticide (f; MPB)
Pectoral (f; DAV; WOI)
Respirostimulant (1; TRA)
Stomachic (f; JFM; VOD)
Sudorific (f; DAV; IED; JFM)
Tonic (f; VOD)
Uterotonic (1; AAB; MPG; RAI)
Vulnerary (f1; RAI; VOD)
Indications

Further information for practitioners:
Duke provides the following indications for this plant:
Alopecia (f1; DLZ; JFM; RAI)
Anorexia (f; JFM)
Asthma (f; JFM; RAI)
Bacillus (1; MPG; RAI)
Bacteria (1; AAB; MPG; RAI; TRA)
Bleeding (f1; DAV; DLZ; IED; RAI)
Blennorrhagia (f; DLZ)
Bronchosis (f1; JFM; RAI; RAR; WOI)
Burns (f; VOD)
Cancer (f1; AAB; RAI)
Childbirth (f1; AAB; MPG; RAI)
Cholera (1; RAI)
Colds (f; JFM; VOD)
Coughs (f; JFM; RAI; VOD)
Dermatosis (f; AAB; JFM; MPB; RAI; VOD)
Diabetes (f1; RAI)
Diarrhea (f1; AAB; RAI; VOD)
Dislocation (f; JFM; VOD)
Dysentery (f; AAB; JFM; VOD)
Dysmenorrhea (f; DLZ)
Dyspepsia (f; VOD)
Elephantiasis (f; IED; JFM; MPB; RAI; VOD)
Enterosis (f; VOD)
Escherichia (1; AAB; RAI)
Fever (f; RAI; RAR)
Fibroma (f; RAI)
Flu (f; TRA; VOD)
Fracture (f; VOD)
Fungus (1; RAI)
Gastrosis (f; RAI; WOI)
Gonorrhea (f1; JFM; RAI)
Headache (f; VOD)
Hematuria (f; DLZ)
Hemorrhoids (f; JFM; VOD)
Hepatosis (f; IED; JFM)
Herpes (1; RAI; TRA)
High Blood Pressure (f1; RAI; VOD)
Infection (f1; AAB; MPG; RAI; TRA)
Infertility (f; RAI)
Inflammation (f; RAI)
Leprosy (f; DAV; RAI)
Malaria (f; JFM; RAI)
Melanoma (1; RAI)
Mycosis (1; RAI)
Neisseria (1; RAI)
Nephrosis (f; IED; JFM; RAI)
Obesity (f; WOI)
Pain (f; RAI)
Parasites (f; JFM; MPB)
Pneumonia (f1; JFM; RAI)
Proctosis (f; JFM)
Prostatosis (f; AAB)
Pulmonosis (f; AHL; DAV; IED)
Rashes (f; AAB; VOD)
Respirosis (f1; RAI; RAR)
Shigella (1; MPG; TRA)
Sores (f; AAB; JFM; VOD)
Sore Throat (f; JFM)
Staphylococcus (1; MPG; TRA)
Streptococcus (1; RAI)
Sunstroke (f; JFM)
Syphillis (f1; JFM; RAI; RAR)
Ulcers (f; RAI)
Uterosis (f; RAI)
VD (f1; JFM; RAI)
Viruses (1; RAI; TRA)
Wounds (f1; RAI; VOD)