July, 2020

See Legal Disclaimer Before Reading this Page
---
See also:
Coronavirus: Truth vs. Medical Propaganda
Coronavirus: The Big Picture
--
(What we know to date -- read this first)
Coronavirus: Essential Self-Defense Against Infection
CoronaVirus: News & Developments for Feb
/
Mar
/
April
/
May
/
June
Next month:
August, 2020

Picking up from June
-- this is the sixth month we've been following the Great Hoaxes of 2020. First, it was CoVid, now we're in the early stages of the Second American Civil War.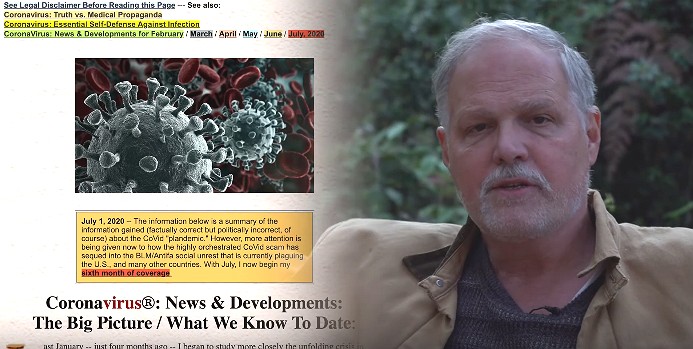 The growing urgency created by orchestrated, catastrophic events over the first half
of 2020 to prepare for what's coming compelled me to make a quick 1:43 video --
the first of its kind in a year. The larger, more fact-filled video to which
this one refers has also been posted. (Originally shot on July 11.)
Coronavirus® & Other Scams of 2020
News & Developments for July

his is the sixth month I've been maintaining this blog. The CoVid hoax has now segued into the communist takeover of the United States. At the end of June, more and more reports poured in relating to attacks on small communities -- people in their vehicles, small businesses, churches. Ordinary citizens have been caught unaware, because the vast majority of wars in which Americans have been engaged have been on foreign soil. Now the war is being fought at home.

Never before has it been more important to ignore FAKE NEWS and share information with fellow citizens for the purposes of self-preservation.

"Peaceful Protesters" -- This is what your community will look like after the "peaceful protesters" behind BLM and Antifa descend upon your community like the plague of locusts that they are. And please don't call them violent or destructive. It's not politically correct, and you don't want Democratic Party operatives doxxing or cancelling you for having the audacity to call a spade a spade. Let's me frank: these people are the scum of the earth -- dregs that nobody would hire or want working in a respectable organization. They have nothing. They are nothing. So they have nothing better to do than make the rest of our lives miserable. We should expect it. This is just what demonic, mutant zombies do. For dozens of similar pictorial gems that document America's communist takeover, see:

We Asked Our Readers to Send Photos of the Democrat Party Sanctioned Destruction and Rioting in their Community -- We Were Shocked at What They Sent In

.


Florida Sheriff Literally Praying for Death Penalty After Criminal's Alleged Heinous Spree: 'He's a Thug, He's a Criminal'

-- This kid is only 26 and he had already been to prison twice and had 260 charges in his arrest history -- most of them violent. So here's the deal. Three guys are out fishing and for fun and entertainment, this kid pulls a Smith & Wesson and murders all three guys before heading to McDonald's for some cheeseburgers and McNuggets.
Just remember that this is the kind of creature that the Democratic Party and liberal establishing is funding, encouraging, and rooting for.

Charting The Retail Devastation: Here Is The Stunning List Of US Store Closures In 2020

-- Store closings last year: 12,370. So far this year? 7,430. It's been a biblical default wave. To think it's only getting started.

The Worst Year In History?

-- 536? 1349? 1520? 1918? . . . all horrific for different reasons. But 2020 gets my vote, because it has strong indicators that it could be, as I argue in my book, Living on the Precipice (2018), the prelude to the extinction of our species.

Moving The COVID Goalposts: Will The Next Step Be Masks To Protect From The Flu & Common Cold?

-- I feel a healthy case of diarrhea coming on. Who knows what will come out of my ass. Should I be wearing a face mask for that, too?

Some Colleges Will Require Students To Take COVID-19 Test Twice A Week

-- If my kid was told that, within the hour he'd be out of that school. It's getting too expensive anyway to send our kids of to school so they can be indoctrinated to be good little commie bastards.

Wilds: Are Predictions Of The Dollar's Demise Premature?

-- Maybe. Timing is a tricky thing. But as my mother used to say: "God's delay is not denial."

Top Democrat Jerry Nadler Confronted -- Asked to Disavow Leftist Antifa Violence, Replies, "That's a Myth" (VIDEO)

-- Oh yeah? Try telling that to the hundreds of innocent victims and their families. Try telling that to the people who've been shot in their cars because they were passing in the wrong place at the wrong time. Nadler is an incorrigible zombie.

There's Gonna Be a Lot of Bloodshed When They Come" -- Democrat Caller on CSPAN Threatens Shootings Against Trump Supporters and Federal Agents (VIDEO)

-- Most of the last few gun fights have been "friendly fire" accidents on the part of these Soros-funded zombie kids. So, hey, kiddies -- good luck with that.

WATCH: Rapper T.I. Says He Wants $1 Million In Reparations For Every African-American (VIDEO)

-- Damn! That's generous! So, what should the descendants of White Slavery, who make up most of the 76 million white people in the U.S. -- what should their reparations package be?

CNN, MSNBC, WaPo, NYT all silent about Bernell Trammell's execution

-- See, here's the thing. It's perfectly okay to kill black people if their politics aren't right. You deserve to die a horrible death if you don't support the right party.

"All They Want to Do Is Condemn Law Enforcement" -- DHS Secretary Chad Wolf Blasts Democrats for Sanctioning Violent Riots (VIDEO)

-- The demons are running amok.

Nike should quit lecturing on social justice -- and atone for using slave labor in China

-- This is the cornerstone of the left's ethos and it always has been: Don't do as I do. Do as I say!

Virtue Signalling, Mental Illness, Racism, and How They Relate

-- It's a mixed bag. Entertaining!
If This is True

-- This comes from the YouTube channel, Marfoogle News, and runs 22 minutes. It expands on a subject that we first picked up from Israeli News Live -- see Ben DeNoon website here.

The focus here is the fact that the Earth appears to be passing through an asteroid debris field. More and more reports are coming in from viewers about observed incoming asteroids -- reports that can be found nowhere in the mainstream media

. Additionally, more and more government money is being allocated for "debris impact cleanup." The latest whistleblowers for this activity aren't bloggers or politicians. No. It's government auditors. Accountants. The pencil pushers. If any of this is true, it trumps everything else I have reported so far. We are back to Ben DeNoon's comment, which came to him from a highly placed White House source:

"Come September, there will be no one left on earth who doesn't know we're in serious trouble."

Is it true or not? We will know within the next 60 days.

Help for Relocation

-- This is also on Ben DeNoon's site. Extremely helpful if you're looking for a safer place. It would take you hours to go through the submissions in the Comment section, many of which contains valuable insights.

Where to Live

-- The U.S. Democratic Party platform for 2020 is out. It comes just short of saying that all white people need to be exterminated for the betterment of humanity -- NOW! Unbelievable. If you want to know just how stupid people are, just imagine that there are millions of white people in the U.S. who are signing on to this. "I'm up for suicide! Please! Pick me! Pick me!" This video puts forth a flurry of statistical charts and presents the conclusion that if you're stuck in the U.S., the best place to relocate is the intermountain region of the West. (It clocks in at a short 1:45, so you have no excuse not to see it).
We live in Ecuador, where we don't have any racial issues. Socioeconomic, yes. Racial, no. The general concensus here is: "Todos somos mestizos" (Ultimately, we are all mixed blood). If this were the concensus in the U.S., we wouldn't even be discussing this.

Truth Bombs by Deborah Tavares

-- It's 48 minutes of material the defies the common narrative, full as it is with merciless fake news. Watch now. It won't be up for long.

President Trump Warns Pandemic Is Going To Get Worse Before It Gets Better

-- Translation: "Boy, oh boy! Have we got big plans for you!"

The War Against Physical Money: Your Cash Will Soon Be Worthless

-- You ignore this at your own peril.
The Strange Life & Death of Whistleblower, David Goldberg

-- I had a friend send this video, along with a series of others, all devoted to the material this supposed whistleblower was releasing. Predictably, all of it -- not some of it, all of it -- was removed from YouTube. (It has been reposted on Brighteon.)
This makes sense since Goldberg had been a Mossad intel agent, with high level Israeli security clearances. He was in a position to know what plans were unfolding and who was on the kill list. It shocked him so much, he decided to tell the public -- to the best of his ability. His final audio prior to his assassination by poisoning -- the link you have above -- came out in June, 2019. His description of planned events that were coming down the pike matches pretty close to what we've been seeing for the last 6 months.
Six days ago, Jeff Rense did an interview with Brother Nathaniel (Milton Kapner) -- a Messianic Jew with a sizeable audience, with some interesting perspectives, discussing the particulars of Goldberg's last audio. If you live in the United States, I HIGHLY recommend that you listen to both videos. Your life could depend on it, and I'm not exaggerating.



5G > CoVid Causality PROOF

-- Ok, naysayers -- those of you who didn't think that 5G caused all this Corona shit: dodge this bullet. Boom! You're dead. Any leftist who sees this video (assuming they can even hold still long enough to see all 14 minutes of it) is going to go apoplectic and will need additional medication. Point of the video at conclusion: DO NOT get the "nasal test."

African President of Burundi Calls COVID a Hoax, Expels the WHO and is then Suddenly Found Dead

-- Here's a little summary of Burundi's recent history:



The president of Burundi, Pierre Nkurunziza, dismissed covid19 as nonsense.
The president of Burundi was vilified in the Western press.
The president of Burundi expelled the World Health Organization from his country.
The president of Burundi died suddenly of a "heart attack".
The NEW president of Burundi immediately reversed his predecessor's Covid19 policies.


The assassination tool used to take out leaders who have the audacity to do what is best for their people is called a "Venus shooter." I'm sure that what happened here.



Trump holds news conference covering coronavirus, economy | 7/22/20

-- Fast forward to 27:50, when the conference actually begins. Imagine: $2 billion for a product that has nothing to do with protecting you from CoVid. (See below.)

We Are Victims of the Greatest Crime in History

-- 6"Back in March, international best-selling author, Dr Vernon Coleman MB ChB DSc FRSA, was the first medical doctor to describe the coronavirus scare as a hoax. Here he analyses the coronavirus hoax from its beginning and shows how governments have lied and endangered millions of lives. Dr Coleman proves that the response of governments has killed far more people than the coronavirus. For more unbiased information about other important issues, please visit http://www.vernoncoleman.com"

Lights go out on Lebanon's economy as financial collapse accelerates

-- Like a cancer, this level of collapse is spreading.

Photo Appears to Show Black Lives Matter Supporters Holding Down and Kneeling on Neck of White Baby

-- There is no end to what the Elite will do to stir the racial hatred pot -- to foment the great white/black racist hoax.

New Study Refutes China's Narrative of COVID-19 Being a Natural Animal-to-Human Transmission

-- There is nothing about the official CoVid narrative that isn't chock full of lies.

Mark McCloskey: Democrats Are Trying to Create a Kent State Situation and Blame it on Trump -- "They Don't Care How Many People Die in the Process" (VIDEO)

-- In the Marxist mindset, their end always justifies their means, no matter how evil.

Connecticut State Lab Finds 90 False Positives Out Of 144 Coronavirus Tests Administered In Mid-June

-- Lies built the CoVid narrative, and so only lies will sustain it.

New Poll Shows More White Americans Now Oppose Black Lives Matter Than Support

-- Golly gee. I can't imagine why.

Facebook's Neutral "Fact Checkers" Exposed As Ex-CNN Staffers And Democratic Donors

-- No surprise there.

US Strikes $2 Billion Deal To Buy COVID-19 Vaccine From Pfizer

-- "In the latest deal involving a (clearly anxious) government and a (clearly greedy) pharmaceutical giant peddling an as-yet-unfinished remedy or vaccine, the US Department of Health and Human Services and the DoD have announced a deal with Pfizer to buy 100 million doses of a vaccine candidate -- once it has been tested and approved and all that." Imagine -- a product in development that cannot possibly work, given what we know about the causal relationship between 5G and "CoVid." Yes, boys and girls, that's how anxious your government is to zombify you and make you easier to track and govern.

Coronavirus Infections 13x Higher Than Reported In Some Parts Of US

-- Anything coming out of the CDC is complete horseshit, and here we have yet another stellar example.

World Population To Peak In 2064

-- Nonsense. It's going to peak over the next three years. You watch.

Twitter Targets QAnon: Nukes 7,000 Accounts, Restricts 150,000 More

-- QAnon is nonsense, but that doesn't matter here. What matters is we have yet more proof that Big Tech despises "freedom of speech."

Trump says coronavirus crisis will 'get worse before it gets better,' pleads with Americans to wear masks

-- It's going to get worse, as I've discussed before, because the architects of 5G have it in their script.

Vaccines to implant tracking devices? Bill Gates goes public

-- You know when this guy is lying. His mouth is open.
Fireball Watch! Five More Large Asteroids Headed This Way, 19 INTERSTELLAR Centaurs Found

-- Could be nothing burger. On the other hand, as I reported on the 20th, it could be catastrophic. Either way, it would be wise to begin paying more attention to the skies.

"The Situation Is Grim" -- Hong Kong Dangerously Unprepared For Second Wave Of COVID-19

-- But more importantly, will they be prepared for CoVid Wave #41,853 in the year 2932 A.D.?

Trump Urges Americans To Wear Masks 'Whether They Like It Or Not', Says Outbreak "Will Probably Get Worse Before It Gets Better"

-- Here is proof that Trump isn't working for the American people. Forced mask wearing? Social distancing? When there is ample evidence that they do nothing for public health? Really? I've said it before: Trump isn't in charge. He's a puppet. What's even worse now is that he's calling this your patriotic duty. What a crock! He must have forgotten to tell his VP.

50 Things You Should Get Right Now To Prepare For The Chaotic Events Of The Next 12 Months

-- Worth reading.

GOP Lawmaker Calls AOC 'Fu*king Disgusting B*tch' Who's 'Out Of Her Freaking Mind' Over BLM Looting Excuses

-- I don't know anything about the bitch part, but AOC is quite ostensibly out of her mind. Batshit crazy doesn't cover it -- plus it's insulting to bats.

Dear Black Lives Matter Supporters, Chicago's Latest Riot Is On You

-- Radical, leftist Americans are funded the destruction of their own country. Read the article. It's really quite unbelievable. Others agree. See: Adam Carolla on AOC: She's 'Insane, Maniacal'

Tucker responds to intrusive reporting by New York Times

-- The NYT has been running stories on Tucker Carlson's whereabouts (his home -- where he lives with his wife and four children) for the purposes of inciting violence against them. In the mind of the Left, the objective is clear: "Say something contrary to our politics, and we'll kill you, your wife, and your kids." Will anyone at the NYT ever be prosecuted? Of course not. This is the new normal.

Disturbing Footage of Mass Arrests in China!

-- Just 38 seconds. Important to watch because we'll soon be seeing this in the States.
Event bigger than COVID or shocking toward November 2020? Astrology prediction

-- "Osher" is a respected astrologer, and even if this is not a discipline you either respect or believe in, it's worth listening to this. Most of this was recorded last December (2019), yet it accurately describe many things about 2020 -- over half of which is already over. He describes how our world will change dramaetically, beginning in March -- (it did). Censorship will get worse than ever before -- (it has). Last half will be far worse than the first half -- (that's evident already), etc.

Latest from J. Stone

-- Contains many vital recent articles --

great bedtime reading if you still have small children

:


Genocide Coming -- "I hate making predictions, but I am going to now. Here is what I firmly believe will be done to kill off America. . ."
Insider info: Pandemic mayhem in October (much worse than the last 5 months).
Florida proven to be inflating COVID stats by more than 10X.
Avoid the PCR test at all costs. "I don't know what the hell it is, but it is clearly not as advertised. The Coronavirus test is not credible and likely to be for clandestine brain access."



Prepare for impact

-- Did we really get hit by one of the asteroids in the debris field through which we are already passing in June? (Unreported officially). And is it true that we have five more coming in September? I honestly don't know. But what's troubling is that I've posted some of Steve's previous posts and he's been quite accurate on a number of things. I'm going to be following this. Either this information is true or it's not. There's no middle ground. I'm going to be following this story. The next post is connected to this one and it comes from the same source. Focus on the core information and if Steve's evangelical angle bothers you, just ignore it. Still --- listen to the course information.

New Source Confirms In Coming Asteroids

-- This follows from the previous post. If this begins happening in September or October, all bets are off. A friend sent this and my cheeky reply was: "That we should be so lucky. I don't believe any of this. It's just too convenient. Evil is having too much fun making us all miserable and using fear porn to get us to pee our pants on demand. Kill me with an asteroid? Are you kidding? No way. I'd miss going through the news everyday so I enjoy my daily enema. Stop sending stuff like this to me and giving me false hope!"

Greenland (trailer) (2020)

-- More predictive programming? Mentioned in Israeli News Live post above.

Insightful response to the above

. I sent these links to a close friend and respected author. He replied with the following letter:


"Something like this could happen, sure.
"Remember my dream of a week ago, where I was told that there is a 60 day period, that judgment has already been rendered and the penal sentence, so to speak, will absolutely be imposed on or about 11 September 2020. There is no questioning it. The verdict is final.
"I was told in the dream that whatever it is, is immutable, it will absolutely, 100% happen. There is no appeal. I felt that it was somehow connected to or with China, but exactly how I could not say. It could be that China will bear the brunt of whatever it is that is coming, or perhaps it is the other way around. I do not know.
"Remember Byron Searle's vision from the "Lord" of a week ago where he was told that 7 weeks remain until the judgment? 49 days from the 13th would make it around about September 1st.
"I saw another guy who was apparently given a judgment warning in a visionary state about this coming September.
"I, therefore, do not rule out the possibility of very BIG events occurring in September. "We have several weeks until then. You know the Bat drill. Get as ready as you can. We could face no electricity, no internet, no telephone, no functioning economy or government, no medical service, no gasoline, no law enforcement, etc. If your bridge down below wash out, and your mountainside collapses, you could be living in a pup tent and cooking over a wood fire. You'll have water, but you'll have to lug it up the hill." "Best regards,


If you send your comments on the posts above to greg@gregcaton.com, I'll respond in kind.



AOC: Always remember that our need to advance politically and extend our power will always exceed your need to survive

. Check out the post to the right that Rep. Alexandria Ocasio-Cortez posted and then immediately deleted in late May. If those asteroids really are coming later this year, then at least we'll know that there was an element of karma in the entire affair.

NASA Warning: Massive Asteroid Approaching Earth!

-- This was posted on Saturday. Interestingly it comes from NASA (which is Hebrew for "deception"). The problem is that there are so many of them coming now that it's getting harder to deceive the public and say they don't exist. Unlike the hundreds of fake images that come out of their graphic arts department, the ones that may be coming will not be so easy to airbrush. We'll see.



"Margin call, gentlemen!"

-- This comes from an email I sent a friend: "All your Elite (the ones you've mentioned) are about to face the music. If we speak in market terms, the Luciferians placed short-sell bets -- quadrillions of dollars and every other currency on earth that they created. But on some level God even controls markets. They bet against God. They bet in the wrong direction, and are about to lose everything -- even their souls.
"In a manner of speaking, what ayahuasca told me is that the Time of Choosing (i.e. placing your bets) is ended. And now, it's" Margin call, gentlemen." It's reminiscent of the end of the movie, Trading Places, where "Duke & Duke" -- among the richest traders on Wall Street, lose everything. This 58 second video is the perfect metaphor for what's happening, of which the asteroids are -- hard as it may seem to believe -- just the beginning of their travails."
Your Overlords thought they were Masters of the Universe, when really, they were babies just moving their artificial constructs around on a cosmic version of E-Trade.


Another Medical Doctor Exposes Bill Gates Wicked Agenda On Depopulation of the World

-- No matter what befalls the earth, the Luciferians will continue to pursue their agenda, if for no other reason than that when you are this far gone, this committed to working for the dark side, you sacrifice free will and now you're operating on autopilot.


Georgia Open Carry Law Zinged by Left Amid ATL Crime Spikes

-- Again, this reminds me of my days in kindergarten, when students were too immature in their mastery of language to know how to skillfully respond to insults. So what do you do? You have to respond or the insult might be true, right! So how to respond when someone calls you an idiot, a retard, "four-eyes," dwarf, twat, or something worse that your name-calling, crayon-hoarding, toy-stealing, multiple-syllable-wielding, schoolyard enemies have managed to successfully pick up from their even more sophisticated, mature, and surprisingly, intellectually, and emotionally developed older siblings? You know what I'm talking about. Those ever-dreaded collection of hard-to-understand, hard-to-pronounce, ego-destroying, verbal thunderbolts that have the power to send you to the bathroom crying, while pee streams down your leg. Pea-brain, bed-wetter, caca-eater, potty-head, pussy-breath, dick-head, fuck-face, and on and on the list goes. Your foes are seemingly all-powerful in their ability to summon assaults that could not, would not, nor would they ever be found in your teacher's dictionary.
Answer: You use the universal, multiple-purpose, ever-dreaded, Swiss Army knife of all insult comebacks:

"I know you are, but what am I?"


Now I understand that there's a perverse kind of cuteness watching five-year olds behave like this. What is less entertaining is to watch adults resort to this post-toddler behavior, let alone watch an intensified form of it become the standard operating procedure of the Left, the mainstream media, and the most popular political party in America, the U.S. Democratic Party. (In fact, for the rest of this article, let's just refer to this collection of like-minded beings, "the Party." What I'm describing, by the way, does not exonerate Republicans for their atrocities, but this kind of demonic possession has strangely found a home in America's Left -- more so than any other place on earth.)
For example, the Indian-American conservative author, filmmaker, Dinesh D'Souza, has done a superb job of demonstrating that few organizations have historically has been as supportive of racism against black people as the U.S. Democratic Party -- the same party that hurls the "racial" charge to anyone and everyone that disagrees with any of their positions. Predictably, the mainstream media, Wikipedia, and the left have gone to considerably lengths to paint D'Souza as a wingnut and conspiracy theorist. He is neither. D'Souza is a meticulous researcher and documentarian. He has learned to cross his "T's" and dot his "I's" while machine gunning his critics to death with a barrage of indisputable references. He is impressive and formidable. Watching liberals attempt to debate him is downright embarrassing. It's like watching one of our aforementioned kindergartners trying to take on a high school boxing champion in the ring. It would be, at once, both brutal and unfair. It only make sense that the Left devoted considerable resources to go after him criminally. They have to do this. They have no choice. They are certainly powerless to logically address this accusations.
So, let's get back to our article above. We have an explosion in the number of robberies and murders occurring in the U.S. as a result of the funding of BLM and Antifa radicals, a declaration of war against America's police forces, and the media's active encouragement and, indeed, collaboration with the violence and mayhem -- as I have been documenting on this blog. The evidence of this is shocking and overwhelming. Even YouTube, in its embrace of the far Left position, cannot stop the flood of posted videos confirming the violence. How do the Democratic perps respond? Do they say, "Ok, fine, that was irresponsible. Guess we'll have to change our position. We deeply apologize for the billions of dollars in losses and thousands of lives"?
No, of course not. They uniformly double down, as we see in this article. The mayor of Atlanta, Keisha Bottoms, blames Open Carry Laws (most particularly Georgia's). After all, what could possibly make the public safer than destroying what's left of the Second Amendment, removing people's guns, making law-abiding citizens powerless to defend themselves against violent criminals, all the while you fund violent mobs? All logic and reason has been abandoned in the current debate. Causality has lost all meaning. Using the principles of logic used by the Left, I should sue the estate of the obstetrician who did my circumcision 64 years ago, because it affected my grades in high school and prevented me from getting into a better college.
Some people will say I'm heartless, a racist, a misoygnist, and a monster for bringing this up. But what my adversaries don't understand that I already have a powerful, compelling response waiting for them.


"I know you are, but what am I?"





Black murder is normal | Michael Smith | TEDxJacksonville

-- Meet Pastor Michael Smith and learn why the racist narrative of of the Left is true hypocrisy at its worst. This was posted in January, 2015, has almost a million hits, and to be honest, I have no idea why YouTube hasn't banned it, because it has no many truthful facts that it guaranteed to make any leftist foam at the mouth. I'm not sure anyone with sympathy for the Leftist racist narrative should watch this without having their medication ready beforehand.


"Putin Hacked Our Coronavirus Vaccine" Is The Dumbest Story Yet

-- "This week, mainstream media is reporting what is arguably the single dumbest Russiavape story of all time, against some very stiff competition." Most people who are really, really stupid try to hide it. Most people want to display their best attributes and qualities -- and downplay their deficiencies. So if you're not very smart -- no problem -- let's see your better qualities! Not so with the media. They lack the good sense to even do this. Fake News is so intertwined into what they are and what they do that they apparently are oblivious to proving ever more convincingly that there isn't a shred of truth to what they put out. This was a Big Pharma propaganda campaign to try and convince a doubting public that a CoVid vaccine would have value. That it was so valuable, somebody, somewhere might want to steal it.
Nice try. Now there ya go -- get back in your straight jackets where you belong.

Facebook Deplatforms Former Employee Who Questioned BLM/Diversity Narrative -- "Agree with our fake narrative or we destroy you!" So tolerant, these Satanists.

Stock Market Crash 2020: Welcome To The End Game

-- We have less than five and a half months until the end of 2020. If we make it to Christmas without the market collapsing, I'll actually be surprised -- as will a lot of other people, who, unlike myself, following markets for a living.

Stockman: The Clown Cars Are Fully Loaded And Dr. Fauci's Leading The Parade

-- "When it comes to the topic of clown cars, we'd say Dr. Fauci gets a limo version all to himself . . ." It's hard to believe that anybody who really studies the things Fauci says would hold him as remotely credible.

Face Masks Mandated By UK Government Specifically Say They Don't Protect Against COVID-19

-- It's in your face now, and this says something about the nature of power. It's power when you can say, "Here, wear this mask. We're requiring you to wear it because it will protect you and those around you." However, it is more powerful still and a greater expression of pure tyranny when you're about to say, "Here, wear this mask. It won't do a damn thing to help you or those around you, but we're going to make it mandatory for you to wear it anyway." That's real power. That's real tyranny. That's a powerful expression of government's genetic nature to wield control over people, take from them endlessly, and not return but a small fraction of what's been stolen from them.
Portland Riot Organizer Claims Mission is the 'Abolition of the United States As We Know It' -- This isn't the thinking of one errant drughead. This thinking represents the hopes and dreams of the majority of those who are members of the most popular political party in the United States -- the one that holds the House of Representatives. It's suicidal. Political revolutionaries are, in a sense, like inventors: ever capable of telling you all the good things their grand plans will DO -- and always neglecting to tell you all the vital elements of civil society that their plans will UNDO.

New York Times Attempt to Promote Face Masks Backfires -- Shows Widespread China Coronavirus Cases Wherever Masks are Worn

-- Truth is a nasty thing that rears its ugly head to the ever-loving frustration of its suppressors. What Big Tech and the mainstream media are experiencing is not unlike what a child goes through with a Chinese finger puzzle. The harder you struggle (in this case, to bury the truth) the tighter the puzzle pulls its grip around your fingers, reminding you that the way your doing things, you will succeed.

"F*** the peaceful protests" shouts angry BLM leader at Portland Rally (VIDEO)

-- You won't see this on any mainstream media outlet.