The South American "Traditional" Used for Centuries
Inflammation

Congestion

Arthritis
Colds

Flu

Headaches

Stress
Dizziness

Anxiety

Cramps
The aromatic "Capnip for People"
Flower Oil of
Palo Santo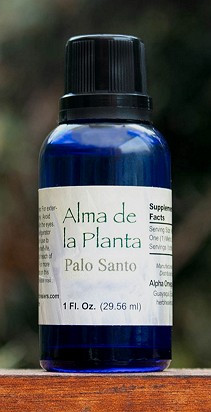 Essential Oil of
the Flower of
Palo Santo
(
Bursera graveolens
)
30 ml. (1 fl. oz.)
Code 5197B --
Price: $19.95
Order Now

Email

Summarized Description:
Palo Santo ("holy stick") is the name given to a medicinal tree commonly found in Peru and Ecuador. (Dr. James Duke refers to it as Caraña, the common name used in certain parts of Central America.) Although the distribution of the tree goes as far north as Mexico, it appears to be more ingrained in the culture in this part of South America. In Ecuador, the wood of the tree can been found burning, as a kind of incense, in markets throughout the country. Merchants use the burning wood to attract customers. The smell is alluring and cannot be compared to any other natural medicinal I know -- not even frankincense and myrrh, to which it belongs in the same family,
Burseraceae
.

As one herbalist who's a personal friend puts it: "Palo Santo is like 'catnip' for people. It is no wonder people ascribe so many medicinal qualities to it, including the expulsion of evil spirits. I know very educated people who keep it around for good luck."



Shelf-Life

At least five years if kept in a cool, dry place. Further protection from oxidation can be obtained by refrigerating.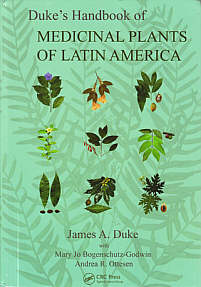 Medicinal Activities

Further information for practitioners:
World-famous botanist Dr. James Duke attributes the following activities to this plant
(p. 132; see hardcopy cover at right),
drawn from the extant literature. (See his graduation for "level of efficacy" on our
amazon traditionals page
; followed by Duke's bibliographic abbreviations (in capital letters), which we
identify on a separate page
.) (1)
Abortifacient (f; MPG);
Analgesic (f; MPG; RAR);
Antiinflammatory (f; MPG);
Antisarcomic (1; X15684524);
Antispasmodic (f; JTR);
Cytotoxic (1; X15684524);
Deodorant (f; BEJ);
Depurative (f; MPG);
Diaphoretic (f; MPG);
Expectorant (f; MPG);
Sedative (f; DLZ);
Sudorific (f; RAR).
Indications

Further information for practitioners:
Duke provides the following indications for this plant:
Colic (f; MPG);
Cramps (f; JTR);
Ear (f; BEJ);
Fibrosarcoma (1; X15684524);
Gastrosis (f; JTR);
Headache (f; SOU);
Inflammation (f; MPG);
Insomnia (f; DLZ);
Otosis (f; BEJ);
Pain (f; MPG; RAR);
Rheumanism (f; JTR; MPG; SOU);
Sarcoma (1; X15684524);
Spasms (f; JTR);
Sties (f; JFM);
Stomachache (f; MPG);
Swelling (f; MPG);
Wounds (f; MPG).
Footnotes
---
Duke, James A., Medicinal Plants of Latin America, CRC Press, 2009, p. 132-133. ISBN: 978-1-4200-4316-7.
Ibid.

To U.S. Users:
This product have not been evaluated by the U.S. Food & Drug Administration. It is not intended to diagnose, treat, cure, or prevent any disease.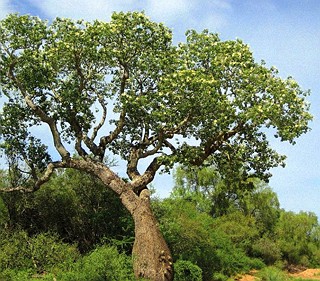 Common Uses For:
Palo Santo Fruit Oil
Congestion: Apply a few drops of Palo Santo fruit oil to a small pot of boiling water. The resulting evaporating oil is used to clear the sinuses and decongest the upper respiratory system.
Colds, asthma, flu, allergies: Boil 5 cups of pure water in a medium pot. Then add 10 drops of Palo Santo oil. Breath in the vapors for several minutes. Repeat this three times a day until symptoms are relieved.
Migraines and Headaches: Apply a few drops (3 or 4) of the oil to the area of discomfort. The forehead and temples are common areas of application. This can be applied as many times as necessary.
Dizziness, panic, stress, job anxiety. Put 5 drops of oil in your hand. Lightly rub on the chest and allow the aromas to be absorbed for a few seconds. Better rest tends to produce better results.
Arthritis and osteoarthritis. Put a few drops (3 or 4) directly at the point of pain. Protect the affected part with a red blanket. Red color increases body energy flow. Do this three times a day.
Muscle, bone and joint pain. Apply a few drops (8 or 9) of the oil directly to the point of pain. Massage lightly until the oil is absorbed. Do this three times a day.
Cramps, contractions, areas of inflammation. Apply 6 to 8 drops of the oil, several times a day, with gentle massage at the point of the condition. Again, rest tends to produce better results.
Other Ethnobotanical Use

Duke provides a "food pharmacy potential" score for this plant of, "FNFF=?" ("Very questionable survival food."). (2) We would never recommend it for anything but its traditional external uses. We do not recommend this product be taken internally.

Costa Ricans apply the oil resin from the trunk to newborn navels to treat sties. (JFM).
Cubans use alcoholic macerate as antirheumatic and sudorific. (JTR).
Cubans use buds as abortifacient and in vaginal douches. (MPG).
Cubans use the leaves for stomach cramps. (JTR).
Ecuadorians use stem a/o latex for anemia, body odor, and ear ailments. (BEJ).
Guatemalans use leaves and stems for stomachache. (MPG).
Nicaraguans use for colic, inflammation, pain, rheumatism, swelling, and wounds. (MPG).
Peruvians use bark poultice as analgesic, depurative, diaphoretic, and expectorant, and for stomachache. (JFM; MPG; SOU).