Sarsaparilla (spelled "Zarzaparilla" in Ecuador) is a plant medicine derived from the sarsaparilla root. It has a wide variety of medicinal uses: improves immune function, provides joint pain relief, assists with weight loss, treats psorisis, helps with anemia (sarsaparilla bark is high in iron) and skin issues, and increases sex drive.
Ethnobotanical Uses

Taylor reports that: "Argentinians use as antirheumatic, aphrodisiac, and diaphoretic.

Brazilians use for acne, anorexia, arthritis, dermatosis, dyspepsia, eczema, fever, gallstones, gout, hives, impotence, kidney stones, leprosy, muscle weakness, nephrosis, oliguria, rheumatism, sores, sterility, and syphilis (RAI).

Mexicans use for arthritis, burns, cancer, dermatosis, dyspepsia, eczema, fever, gonorrhea, inflammation, leprosy, nephrosis, oliguria, rash, rheumatism, scroflua, and syphilis. (RAI)

Dosage:
One capsule, once a day, or as otherwise directed by your health care practitioner.
Warnings & Contraindications

"No health hazards or side effects are known in conjunction with the proper administration of designated therapeutic dosages." (PH2) Can cause nausea and kidney damage in large doses over long periods (SKY). Commission E reports for the root that gastric and renal toxicity as well as drug interactions are possible (with bismuth, digitalis, glycosides, and hypnotics)(KOM). Additionally, saponins can increase the availability of simultaneously administered drugs, while hastening the elimination of other drugs (i.e. hypnotics).(KOM)
Shelf-Life

Five years or more.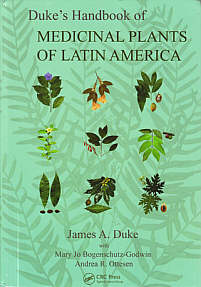 Medicinal Activities

Further information for practitioners:
World-famous botanist Dr. James Duke attributes the following activities to this plant
(p. 526-528; see hardcopy cover at right),
drawn from the extant literature. (See his graduation for "level of efficacy" on our
amazon traditionals page
; followed by Duke's bibliographic abbreviations (in capital letters), which we
identify on a separate page
.)

Duke provides a "
food farmacy potential
" score for this plant of "FNFF=!!." (see below). "I'd feel safe with 10-30 g dry root in 3 cups tea or sarsaparilla/day (JAD). 3 cups tea/day (PH2), 6 tsp (-20 g) in cold tea (MAD); 1-2 tsp powdered root/cup water, up to 3x/day (APA); 1-4 g powdered root (PNC); 3-6 g dry root (PED); -.3-1.5 g root (HH2; PH2); 1-4 g dry rhizome, or in tea, 3x/day (CAN); 2 (450 mg) capsules, 2-3x/day (NH).
Alterative (f; PED; PNC)
Anabolic (1; APA)
Antiinflammatory (1; APA; SKY)
Antiitch (f; CAN; PNC)
Antirheumatic (f; PED; PNC)
Antiseptic (f; CAN, PNC);
Aphrodisiac (f; APA; CRC);
Bactericide (1; APA);
Bitter (f; PED);
Cardiosedative (f; MAD)
Depurative (f; APA; CRC; PED; RAI; USN)
Diaphoretic (f1; APA; CRC; KOM, PH2; USN)
Digestive (f; PED)
Diuretic (f1; APA, HH2, KOM, MAD, PH2, RAI)
Emetic (f; FEL)
Expectorant (1; APA)
Febrifuge (f; PED)
Fungicide (1; APA)
Hepatoprotective (1; RAI; SKY)
Immunomodulator (1; RAI)
Laxative (1; APA)
Memorigenic (f; RAI)
Sudorific (f; CRC)
Tonic (f; CRC; RAI; USN).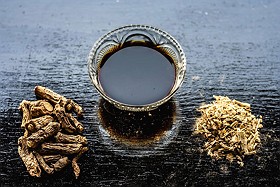 Indications

Further information for practitioners:
Duke provides the following indications for this plant:
Acne (f1; RAI)
Alzheimer's (f; MAD)
Anorexia (f; MAD; RAI)
Arthritis (f1; APA; CRC; RAI; SKY)
Asthma (f; MAD)
Bacteria (1; APA)
Burns (f; RAI)
Caked Breast (f; MAD)
Cancer (f1; APA; CRC, JLH, RAI)
Cardiopathy (f; MAD)
Colds (f; RAI)
Colic (f; MAD)
Coma (f; MAD)
Congestion (1; APA)
Constipation (1; APA)
Coughs (f; RAI)
Cramps (f; MAD)
Cystosis (f; MAD)
Debility (f; RAI)
Dementia (f; RAI)
Dermatosis (f1; APA; CRC; KOM, PH2; RAI)
Dyscrasia (f; MAD)
Dysentery (f; PNC)
Dyspepsia (f; APA; CRC; RAI)
Eczema (f1; CRC; MAD; RAI; SKY)
Enterosis (1; APA)
Exanthem (f; MAD)
Fever (f1; APA, CRC, PED)
Fungus (1; APA)
Furuncles (1; HH2)
Gallstones (f; RAI)
Gas (f; MAD)
Gastrosis (1; APA)
Gonorrhea (f1; APA; CRC; FEL; RAI)
Gout (f; MAD; RAI)
Headache (f; MAD; RAI)
Hematuria (f; MAD)
Hepatosis (f1; FEL; MAD; RAI; SKY)
Herpes (f; MAD)
High Blood Pressure (f; RAI)
IBS (1; PED)
Impotence (f; APA; CRC; RAI)
Infection (f1; APA; CAN; PNC; RAI)
Inflammation (1; APA; PH2; SKY)
Itch (f; CAN; PH2; PNC)
Kidney Stones (f; RAI)
Leprosy (f1; CAN; CRC; RAI)
Leukorrhea (f; MAD)
Lupus (f; MAD)
Memory (f; RAI)
Nephrosis (f; CRC; KOM; MAD; PH2; RAI)
Oliguria (f; RAI)
Pain (f; RAI)
Psoriasis (f12; APA; KOM; PH2; PNC; RAI; SKY)
Pyelosis (f; MAD)
Rashes (f; RAI)
Rheumatism (f1; APA; CRC; MAD; PED; PH2; PNC; RAI; SKY)
Roseola (f; MAD)
Scabies (f; MAD)
Scrofula (f; CRC; MAD)
Sores (f; MAD)
Sore Throat (f; FEL)
Splenosis (f; MAD)
Stones (f; RAI)
Syphilis (f; APA; HH2, MAD; PNC; RAI; USN)
Tuberculosis (f; MAD)
Ulcers (f; MAD)
Urethrosis (f; PH2)
UTIs (1; APA)
VD (f; CRC; MAD; RAI)
Water Retention (f; MAD)
Wounds (f; CRC; USN)