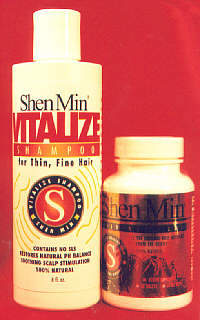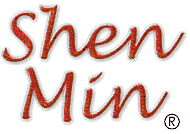 Hair Regeneration
Shen Min Vitalize Shampoo
Code 340 - 8 fl. oz. - $ 6.99

Shen Min Hair Nutrient
Code 350 - 90 Tabs - $18.95
Availability


ne of the most visible areas of herbal research in recent years (if the advertising presence behind the resulting products is any reliable measure) has been "hair restoration" products. Make that attempts to reduce or eliminate
male pattern baldness
. (The pharmaceutical community has its own products and protocols, beginning with
Propecia
and
Rogaine
).

The effort appears to cross continental, as well as dramatically varying cultural, divides. We first introduced the concept in our
Hair Follicle
product, which embodies a traditional South American formula devoted to this purpose. (Shen Min Hair Nutrient is replacing this orally administered product.) The concept behind virtually all the systemic versions of these herbal products is fundamentally the same ---- suppressing the action of Dihydrotestosterone (DHT), which has scientifically been shown to be the
guilty biochemical culprit
.

The award for most widely publicized commercialization in this field, at least in North America, would probably have to go to
Avacor
(tm), owned by Global Vision, Inc. -- but there are other, less expensive products available which successfully accomplish the same thing in a large percentage of users.

After experimenting with a dozen products ourselves -- (this is an outsourced product, made by Biotech Corp. in the U.S. -- after all, hair regeneration is not an area of specialty within Alpha Omega's own research laboratories), we decided to introduce the two best products within the
Shen Min
family of hair products.

Our own finding was that the
product fragmentation
in this -- and other similar hair restoration product lines -- was largely unnecessary (i.e. marketing driven). Everyone appears to have a "men's" formula, a "women's" formula -- a "thin hair," an "oily hair" ... "dry hair" formula ... you get the picture.

Nonetheless, the two products we have chosen with this group are excellent. In most cases we found that taking the internal "hair nutrient" formula while concurrently using the Vitalize shampoo worked surprisingly well, thus earning
Shen Min
our approval -- for effectiveness, ease of use, and lower cost.

Directions, ingredient declarations -- even "romance copy" -- are re-printed in the right hand column.
Español, Português, Deutsch

Italiano, Français, Norsk

To U.S. Users:
This product has not been evaluated by the U.S. Food & Drug Administration, nor has any of the contents of this page. This product is, therefore, not intended to diagnose, treat, cure, or prevent any disease.
Shen Min
Vitalize Shampoo

Vitalize Shampoo for Thin, Fine Hair conditions and energizes your scalp and hair shaft to improve the appearance of thin, fine hair. The formula contains botanical extracts that cleanse the scalp while nourishing the follicles to help hair appear thicker, fuller and healthier naturally. We use only the highest quality ingredients to make it safe for chemically sensitive individuals and anyone who wants lustrous, healthy hair.

No harsh soap, detergents, alcohol or artificial chemicals. Cruelty Free.


Directions: Wet hair thoroughly and apply shampoo. Lather and rinse. Repeat as necessary. Note: minimal lather due to lack of detergents and foam boosters.


Ingredients: Purified water, saponified oils of coconut oil and olive oil, vegetable glycerin, methyl-sulponyl-methanol (MSM), aloe vera gel, jojoba oil, PEG-150 distearate (from plant), hydrolyzed wheat protein, natural essential oils, avena sativa (oat) extract, citric acid, rosemary oil.
Shen Min
Hair Nutrient

Shen Min ®, meaning "Life" or "Vitality" has been used for centuries in China for nourishing and maintaining youthful hair. Now, Biotech Corporation is proud to offer this powerful, all-natural hair nutrient to you. Helping hair naturally without any sugar, starch, artificial colors, preservatives, sodium, or yeast.


Suggested Use: Take one tablet three times daily. For best results, should be taken for a minimum of 3 to 4 months. As with any nutritional product, please consult your physician before using.


Supplement Facts: A serving size is three (3) tablets; each serving contains: 1,775 mg. of Shen Men® -- a proprietary blend of 12:1 standardized Shou Wu (Fo Ti) root extract and He Shou Wu root powder, providing a synergistic complex of chrysophanics and resveratrol; and BioPerine® black pepper extract (Piper nigrum).