his month Alpha Omega Labs introduces a new version of its remarkable acid solution product, H3O, along with a special kit that is destined to replace the "chemical triad" that is currently the foundation for everyday hot tub and spa maintenance: (1) a strong acidulent (usually muriatic acid), (2) chlorine, and (3) bromide. (Chlorine and bromide are toxic - in fact, there is a whole subculture on the web that preaches abstinence from these compounds).


Although a variety of alternatives have entered the market in recent years, all promising (and some with limited success) to curtail the use of chlorine and bromide - long considered essential anti-microbials in the fight to maintain clean, clear, safe spa water, none have gained a significant market share. The most widely touted products in this area have been electrical ozone machines - which are popular in Europe, and of relatively recent introduction in North America.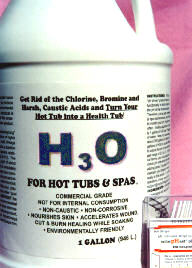 [ Click to enlarge ]

The solution offered by Alpha Omega Labs is novel in several respects. Firstly, it requires far less testing (you only need to check pH - every 60 days or so, depending on frequency of spa use), far less inconvenience (you add one solution, not three), and there is no installation of additional equipment - thus, no added energy requirement. Furthermore, the H3O itself is highly therapeutic: it keeps a variety of fungal activity (tinea) at bay - (in fact, users report it removes toenail fungus with regular use), softens the skin, kills lice and topical parasites (if present) -- and does so naturally, without the least causticity. Environmentally, H3O is a boon. The minute amount of sulphuric acid is readily recycled by the environment, and the stabilized hydronium breaks down into ordinary water. No solution to spa maintenance to date can compare in economy, ease of use, and total therapeutic benefit.


The special package, branded "H3O for Hot Tubs & Spas is now available. Because of its unique health benefits, we urge those of our customers who are spa-owners to read the specifics on remarkable new product.


---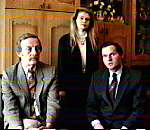 We recently posted a series of videos that were shot by Alpha Omega personnel in the U.S., Australia, and even the Ukraine in 1995-96. We are always interested in new and interesting stories and testimonials from our users around the world - especially success stories involving Alpha Omega products from patients who were written off by orthodox medicine (and there are legions).


In addition to our Cansema Testimonial Page, we are working to edit material on this and other Alpha Omega lines of products. Remember to submit your own stories, and know that we always welcome video submissions to our home office.


If you have ideas of your own on how we can improve this section, please let us know.


Note to our Readers: Welcome to the first edition of The Ashwin (pronounced "Ah-sh' win"), a monthly publication we will provide to our customers and health care practitioner associates. Its purpose is to provide information on new products, research, reported protocols from clinicians we work with worldwide, and information of general interest to the alternative health care community. If you have information you feel would be of importance the community at large please let us know.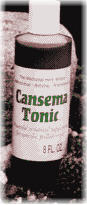 Product Reintroductions

Cansema Tonic &
Omega III Dentifrice

e recently reintroduced a reformulated Cansema Tonic I - which will be carried in tandem with Cansema Tonic III. Earlier this year we introduced Tonic III as a systemic companion to Cansema Capsules, our other systemic (orally self-administered) cancer adjunct product. At the same time, we discontinued Cansema Tonic (I). The original reasoning behind the discontinuance was three-fold: (1) Tonic III is stronger, more concentrated, and users reported excellent results, and (2) Tonic III contains no emetic herbs, is easier on the stomach, and (3) Since we already had Cansema Capsules, it seemed potentially confusing to have two separate tonics, and three systemic versions of Cansema.


However, over the last six months we have received reports from some practitioners that although Tonic III works quite well for most users, it does not work for everyone - and since Tonic I works using different cancer-fighting herbs, there is a benefit to having both alternatives. Another segment of our customers reported that they missed the topical benefits of our first tonic - for use in applications where you wouldn't want to use something quite as aggressive (and in some cases painful) as the Cansema Salve.


Deferring to the wisdom of our practitioner's, we elected this past month (September) to put a slightly reformulated version of the Tonic back online.


Response to date has been quite positive, but we invite earnest commentary from all parties in the field.




This month we reintroduce Alpha Omega III Dentrifrice for Gingivitis and Periodontal Disease. This product has a rather interesting history to it: in the early 1990's, American consumer products maker, Colgate Palmolive paid $88,000,000 for Vipont Chemical Pharmaceutical Co. - largely on the basis of the success of its escharotic toothpaste, Viadent. Patented (by Hungarian chemist and Viadent researcher, Peter Ledanyi) and thoroughly tested, Viadent was sold for years on the basis of its ability to knock out gingivitis and control periodontal disease. It is claimed that Colgate altered the product, making it less effective. Consequent to this event, it was taken off the market.


Early in the 1990's, one of our herbalists (who must remain unnamed) had the opportunity to speak at length with Ledanyi, who made suggestions on how to improve its effectiveness (things which, he indicated, were suggestions he made while at Vipont that were ignored). We employed his suggestions and created Omega III Dentifrice.


Today, Omega III is the most potent, escharotic dentifrice we know - and, at least for the time being, the only one dentifrice of its kind now offered for sale - either on retail shelves in North America or via mail order (online or off).
---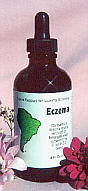 Eczema

This month we introduce the first product to come out of our foray into the jungles of the Amazon at the far reaches of Eastern Equador. The herb, brungmansia grandiflora, is well-known in the Equadorean jungles by the Shuar tribe. (They make a potion from the bark, swallow about one teaspoon (5 cc) everyday as a preventative for joint problems.) The arthritic application we are still working on - but additionally we found that by bioenergizing the extract (using scalar wave technology), one could create a product that worked with eczema as well.


The product, topically-applied and labelled simply "Eczema," comes in a 4 fl. oz. bottle with complete user instructions. For the next 3 months, Alpha Omega Labs is offering this product at an introductory price of $9.95 per bottle - product code 1750.


Users and practitioners are invited to make inquiry.

---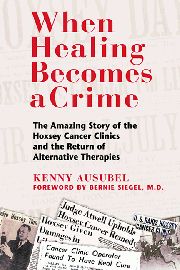 Hoxsey:
How Healing
Becomes a Crime

We've received many letters from people over the last two years from people who were not able to see the original "Hoxsey movie" (1987) - since the producers (Realidad Productions) went out of business. For the uninitiated into the world of political intrigue that surrounds the cancer industry, we provide a full copy of the film in both 56k and DSL (broadband) quality for your viewing pleasure. In case you haven't seen it, we still provide our own introductory page on a system hell-bent on preventing effective therapies from seeing the light of day.


Click here to enjoy.




Home Page | Order



---
© 2001 Alpha Omega Labs · Nassau, Bahamas · All rights reserved. This page completed September 30, 2001.

---