This site contains background information, user instructions, and technical support material on the skin cancer treatment system,
Cansema
. If instructions are followed,
Alpha Omega
guarantees 100% success in the removal of dermal or epidermal malignant lesions, including basal cell, squamous cell epitheliomas and even melanomas -- regardless of type or size...
or the treatment is free and payment is refunded.
(See
Warranty
).

Note:
Our end users in the U.S. must be guarded in not accepting any therapeutic or curative statements about this product, since no escharotic formula has ever been approved by the U.S. Food & Drug Administration, despite over 150 years of successful use by various parties and communities within that country. We have a separate page that provides
the reasons for this sad development
.)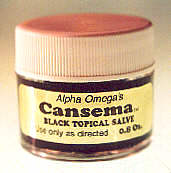 Although designed for self-administration,
Cansema
is not a replacement for timely, competent medical advice and attention.
Alpha Omega
highly recommends that prior to usage, the user obtain a biopsy or other diagnosis of the suspected cancer site. On the basis of reliable diagnosis and in conjunction with medical consultation, the user may then make the decision as to whether or not to use the
Cansema
system.
Cansema
, because of its ability to discriminate between healthy and cancerous tissue, is often used simultaneously as both a diagnostic tool and a skin cancer remedy, but we do not recommend this use, simply because skin cancer is sometimes a by-product of other pathological condition(s) that should be attended to by a competent physician.

Information and order instructions on Cansema are broken down as follows: