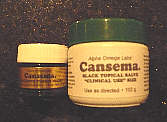 We are frequently asked about the use of
Cansema (Amazon) Black Topical Salve
, when the evidence of malignancy is widespread.

For example, someone may write to us and indicate that they have successfully treated 10, 15, or even 50 skin cancers over a period of a couple years, using
Cansema
. They will then ask what is the best approach in eliminating a large number of malignancies over a wider area of the body.

First and foremost, it is important to understand that topical escharotics are primarily designed to remove skin cancers "in situ" --- that is, the malignancy is localized and is not indicative of widespread or "systemic" cancer activity. When the growths in question are numerous and can be found on various places over the skin (the single largest organ of the body), this is normally not an indication of localized malignancy. These growths arise as a result of carcinogenesis that is widespread.

Systemic problems require systemic solutions, so below we list some of our recommendations for those cases where it is obvious that the growths in question are clearly not "localized." These techniques create an internal "environment" within the body that is hostile to cancer growth and each of them have a long history of effective application and results.


These are the chief inputs that can work against the rest of your program to address systemic cancer issues.
Cathryn Caton, N.D.

Alpha Omega Labs

Guayaquil, Ecuador

January 12, 2016